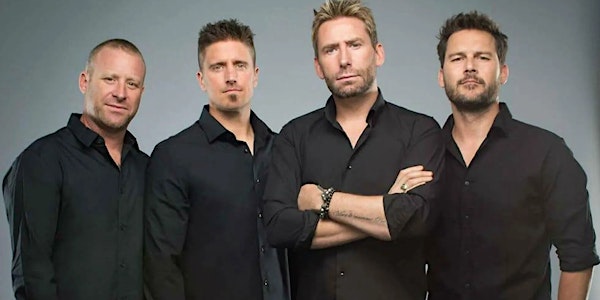 Nickelback Tickets
Nickelback
Date and time
Starts on Friday, July 14 · 6:30pm PDT
Location
The Kia Forum 3900 West Manchester Boulevard Inglewood, CA 90305
Refund Policy
Contact the organizer to request a refund.
About this event
Nickelback Tickets
Nickelback began as a cover band in Hanna, Alberta, Canada, in the early 90s called Village Idiot. Current members include Chad Kroeger on guitar and lead vocals; Mike Kroeger on bass; Ryan Peake on guitar, keyboard and back-up vocals and Daniel Adair on drums. Nickelback has sold over 50 million albums worldwide making them one of Canada's most successful bands ever. Their music appeals to a diverse group, falling into multiple genres including grunge, hard rock, pop rock, metal and nu metal. Over the years, Nickelback has been influenced by bands like Red Hot Chili Peppers, Metallica and U2. Before hitting the States, they performed alongside bands like Creed and Everclear, building their fan base in Canada.
What's in a Name?
Believe it or not, the name Nickelback does not hail from any football reference. Instead, the band named themselves after a line Mike Kroeger often used with his customers when he worked at Starbucks. Most of his coffee sales equaled $1.45, $2.95 or $3.95. For those paying in cash, he would return their change to them, stating Here is your nickel back. The term nickel back stuck and thus a band name was born.
Where can I purchase Nickelback tickets?
As the largest ticket marketplace, Eventbrite offers quick, easy and safe transactions. Purchase your tickets in confidence knowing they are backed by Eventbrite's Fan Protect guarantee.
What awards has Nickelback won?
Out of 11 nominations by the Billboard Music Awards, Nickelback won 7 including Hot 100 Single of the Year, Hot 100 Airplay Single of the Year, Hot 100 Single of the Year by a Group/Duo and Top 40 Rock Track of the Year for How You Remind Me in 2002. They also won Duo/Group of the Year and Hot 100 Artist Duo/Group of the Year in 2006. Also in 2006, their album All the Right Reasons won Rock Album of the Year. Though they have been nominated for a Grammy award 5 times, the win still alludes them.
What can I expect from a Nickelback concert?
You can expect a hearty rock concert filled with adoring fans singing along to all their top hits. Sometimes rowdy, a little bit raunchy and always entertaining, Nickelback promises a good show with their love for improvisation and crowd inclusion. Sometimes, a lucky guitar-playing or singing crowd member is invited up on stage to play along with the group. Kroeger's soulful rasp comes through on ballads like Far Away as well as the high-energy Animals. No two concerts are ever alike.
Will Nickelback tour in 2019?
Yes, Nickelback's Feed the Machine tour is well underway with dates scheduled in both the US and Canada. You can also catch them in concert with Skillet and the Imagine Dragons.
What is a Nickelback concert setlist like?
You are certain to hear most of Nickelback's top hits, some lesser-known singles and maybe even a cover or two. Some songs from their setlist include Photograph, Burn it to the Ground, Feed the Machine, Far Away, Someday, Figured You Out, Hero, Gotta Be Somebody, Animals, Something in Your Mouth and Rockstar.
Will Nickelback come to a city near me?
Nickelback will perform in a number of cities, including at the Pavilion at Ravinia in Highland Park, Ill., Paradise Cove Margaritaville in Tulsa, Okla., Mohegan Sun Arena in Uncasville, Conn., and Mark G. Estes at the Hard Rock Hotel and Casino in Atlantic City, N.J. You can also catch Nickelback at concert stops in both Canada and Brazil.