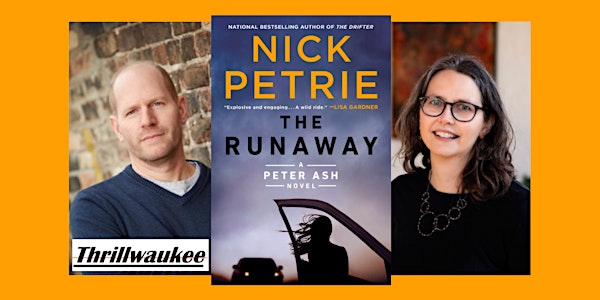 Nick Petrie, author of THE RUNAWAY - an in-person Boswell event
Nick Petrie returns, this time in person at Boswell, for an event celebrating the release of The Runaway
When and where
Location
Boswell Book Company 2559 North Downer Avenue Milwaukee, WI 53211
About this event
Nick Petrie returns, this time in person at Boswell, for an event celebrating the release of The Runaway. For this event, Nick Petrie will be interviewed by artist and creativity podcaster Margret Petrie. Register here to be part of the in-person program.
War veteran Peter Ash is driving through northern Nebraska when he encounters a young pregnant woman alone on a gravel road, her car dead. Peter offers her a lift, but what begins as an act of kindness soon turns into a deadly cat-and-mouse chase across the lonely highways with the woman's vicious ex-cop husband hot on their trail. The pregnant woman has seen something she was never meant to see . . . but protecting her might prove to be more than Peter can handle.
Mystery writers love Nick Petrie's novels almost as much as fans do. From Lisa Gardner: "Explosive and engaging! Fasten your seatbelt, this is going to be a wild ride."
Milwaukee-area native Nick Petrie is the author of six novels in the Peter Ash series, most recently The Breaker. His debut, The Drifter, won both the ITW Thriller award and the Barry Award for Best First Novel, and was a finalist for the Edgar and the Hammett Awards.
Purchase your copy of The Runaway at https://www.boswellbooks.com/book/9780525535508. We recommend purchasing the book in advance.
If you'd like to watch the event virtually, we're planning to broadcast it on Zoom Webinar. Register at https://us02web.zoom.us/webinar/register/WN_Wp4Vli1XSJeJJc_AedFL5Q.
Please note that we're only allowing two people to register on one email so that we can keep registered folks aware of any changes to this event.