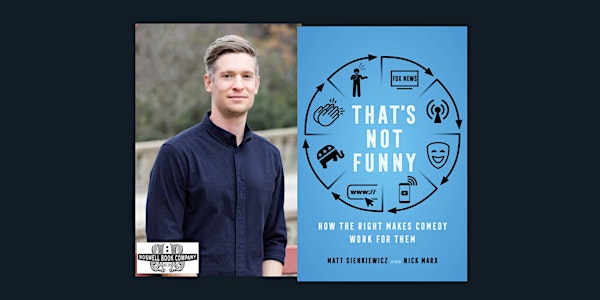 Nick Marx, coauthor of THAT'S NOT FUNNY - an in-person Boswell event
Nick Marx, author of THAT'S NOT FUNNY - an in-person Boswell event
When and where
Location
Boswell Book Company 2559 North Downer Avenue Milwaukee, WI 53211
About this event
Boswell presents an evening with Nick Marx, coauthor of That's Not Funny: How the Right Makes Comedy Work for Them.
"Why do conservatives hate comedy? Why is there no right-wing Jon Stewart?" These sorts of questions launch a million tweets, a thousand op-eds, and more than a few scholarly analyses. That's Not Funny argues that it is both an intellectual and politically strategic mistake to assume that comedy has a liberal bias. Matt Sienkiewicz and Nick Marx take readers - particularly self-described liberals - on a tour of contemporary conservative comedy and the "right-wing comedy complex."
Right-wing comedy has been hiding in plain sight, finding its way into mainstream conservative media through figures ranging from Fox News's Greg Gutfeld to libertarian podcasters like Joe Rogan. You will find many of these comedians utterly appalling, some surprisingly funny, and others just plain weird. They are all, however, culturally and politically relevant - the American right is attempting to seize spaces of comedy and irony previously held firmly by the left. You might not like this brand of humor, but you can't ignore it.
From Publishers Weekly: "Provocative. . . . Progressives will want to take notice."
Nick Marx is Associate Professor of Film and Media Studies in the Department of Communication Studies at Colorado State University. Matt Sienkiewicz is Associate Professor and Chair of the Boston College Communication Department. Please note that Mr. Sienkiewicz will not be attending this event.
Click here to purchase your copy of That's Not Funny. Signed copies and personalization available on pre-orders. Please note that signed copies will not be shipped until after the event.
*