NICHE Canada Presents: Cannabis & the FilipinX Community - 2019 Dialogue Se...
Description

NICHE Canada is proud to host a new dialogue series focused on bringing evidence based cannabis education and grounded dialogue to various ethno-cultural communities in Canada. Our first forum in our 2019 series will be held in Scarborough, Ontario, highlighting the vibrant FilipinX community. Join us July 16th at Malvern Toronto Public Library as we 1) discuss and break down the Cannabis Act and legalization from a public health perspective, 2) highlight the experiences of FilipinX community members, and how culture and history intersect with our perceptions about cannabis, and 3) explore opportunities to engage with and participate in the developing cannabis space.

The forum will begin with a "Cannabis 101" overview, delivered by NICHE members Abigail Sampson (Board of Directors), and Dr. Jenna Valleriani (CEO). Following this introduction, our all-star panel will be moderated by Dr. Terry Lake, Vice President of Corporate Social Responsibility at Hexo Corp, and former Health Minister in British Columbia. Our panel will feature: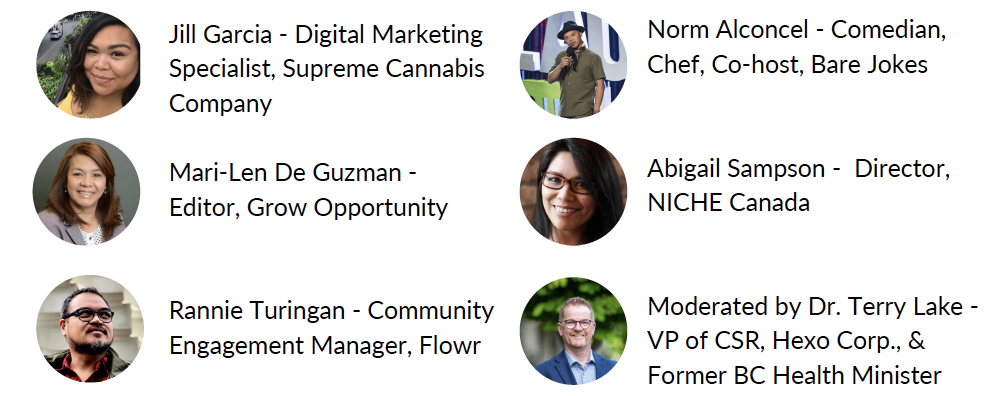 Historically and culturally, cannabis has been a taboo topic among Filipinx. However, with many Filipinx working in industries that will be impacted by the cannabis legalization (e.g., healthcare, hospitality, food and service, etc.) education is imperative. Our aim is for our audience to walk away with a greater understanding of cannabis and the laws, in order to promote evidence based community conversations, empowerment in their knowledge and to encourage them to explore potential ways they can get involved. We aim to create a safe, stigma-free venue that encourages open dialogue.
Light refreshments and snacks will be served.
We look forward to welcoming you on July 16th, 2019!
---
Schedule
7:00 - Welcome
7:10-7:30 - Cannabis 101 - Presented by NICHE (Abigail Sampson & Dr. Jenna Valleriani)
7:30-9:00 - Panel discussion
The goal of of our 2019 dialogue series is to bring together members of the various ethno-communities to facilitate dialogue on the legalized cannabis framework in Canada, and to discuss the effects of cannabis from a social, economic and public health perspective. NICHE recognizes many of these communities have been missed in cannabis education and outreach. We also want to bring together panelists that identify and can draw on their experiences with cannabis legalization and within the cannabis industry. While we hope to educate the audience on cannabis legalization (e.g., the "101"), we also want to spotlight community members who are working in the cannabis space as part of an approach which brings communities together and focuses on de-stigmatization, education and opportunity.