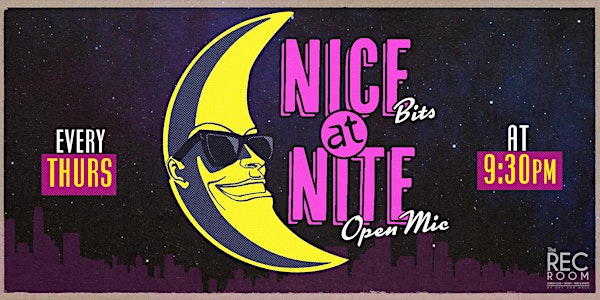 Nice Bits at Nite (OPEN MIC)
Ages 18+
The Rec Room Presents
Nice Bits at Nite is the lottery style, open mic after our weekly comedy competition. ANYONE can enter, EVERYONE goes up.
When and where
Location
The Rec Room 7227 Edinger Ave Huntington Beach , CA 92647
About this event
Any open mic at The Rec Room is open to ANYONE who wants to enter and EVERY person who puts their name in the bucket gets up. Sets are 5 min but if there are too many comics to get up before the hard out at midnight, times will be cut.
OPEN MICS AT THE REC ROOM WILL HAVE OBSCENE AND OFFENSIVE PORTIONS AT TIMES. IF YOU ARE LOOKING TO SEE PROFESIONAL COMEDY PLEASE COME TO ONE OF OUR SHOWS WITH PAID TICKETS. THESE COMICS ARE MOSTLY BRAND NEW AND JUST LEARNING, THEY HAVE A LOT OF VENOM IN THOSE LITTLE BABY COBRA FANGS, AND THEY MAY LET OUT TOO MUCH.
You also don't have to reserve a ticket or show it to get into the open mic. These ticket links serve more to spread the word about our open mics