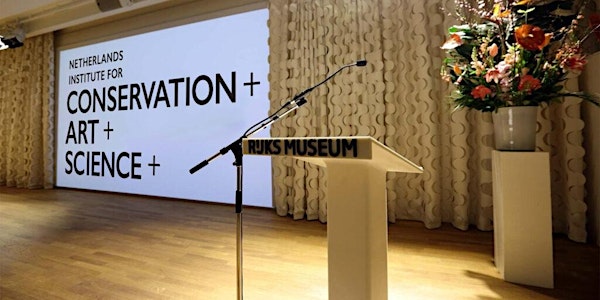 NICAS Project Day 2023
NICAS will host a full day of inspiration and research projects at the intersection of science, conservation and art history.
By Netherlands Institute for Conservation+ Art+ Science+
Date and time
Tue, 13 Jun 2023 13:00 - 17:30 CEST
Location
Rijksmuseum 1 Museumstraat 1071 XX Amsterdam Netherlands
About this event
4 hours 30 minutes

Mobile eTicket
► Please note this is an onsite event, it is not possible to attend online.
► Although this event is free to attend, it is not free to organise. If you register we count on your attendance. If you find that you are no longer able to attend, we kindly request that you unregister using the same registration link as soon as possible.
Preliminary Programme
12.30 - 13.00 Walk in
13.00 - 13.15 Welcome
► Dr. Robert van Langh (Chair of NICAS)
13.15 - 14.30 Project Presentations
► Dr. Margriet van Eikema Hommes (RCE) - Study of the Materials and Techniques of Matthias Withoos' View of Amserfoort
► Amin Livani MSc (TU/e) - Hygro-Mechanical Response of Oak Growth Rings to Varying Indoor Climate Conditions: A Combined Numerical and Experimental Study
► Gauthier Patin MA (RCE) - Fading Observations and Risk Assessment of Colour Change in Van Gogh's Works
► Prof. dr. Joost Batenburg (CWI, Leiden University), Prof. dr. Robert van Liere (CWI, TU/e), Francien Bossema MSc (CWI, Rijksmuseum) - IMPACT4Art: 3D Visualization of the Interior of Art Objects Through CT Scans
► Welmoed Kreb MSc - POPE: Resin Bleed
14.30 - 15.00 Coffee Break
15.00 - 16.30 Keynote Speakers
► Prof. dr. Rob Erdmann (Rijksmuseum, UVA) - tba
► Prof. dr. Jeroen Stumpel (UU) - tba
16.20 - 16.30 Closing Remarks
► Dr. Benjamin Rous (Coordinator NICAS)
16.30 - 17.30 Drinks