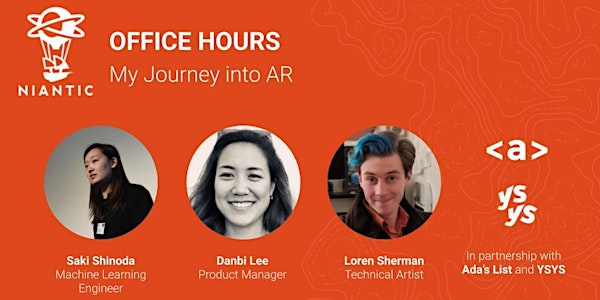 Niantic Office Hours: My Journey into AR
Niantics in UX, Product Management and AR R&D share their unique paths into the augmented reality industry and their tips for joining them.
About this event
The event
In 2016, we brought geolocation augmented reality gaming into the mainstream with Pokémon GO. Since then, we've seen the wave of AR-powered real-world experiences grow rapidly and with the advent of the 'fifth wave' of computing, AR has emerged as a defining innovation of our era.
For individuals looking to participate in a sea-change moment with worldwide impact, AR poses an incredible opportunity. But the industry can be opaque. What roles are needed? What skillsets are transferrable? And how do you get into it in the first place?
So for this Niantic Office Hours, we'll meet with some of our team members who are helping to build and design experiences for our planet-scale AR platform. You'll learn about the career journeys of our speakers Saki Shinoda (Machine Learning Engineer, AR R&D), Danbi Lee (Product Manager, Geodata Platform) and Loren Sherman (Technical Artist). They'll share how their experiences and interests converged on AR, and illuminate the diversity of skillsets that goes into pushing the frontiers of today's technological possibilities.
We're hosting this virtual event in collaboration with the brilliant YSYS and Ada's List. YSYS is a London-based organisation dedicated to opening the doors of opportunity to diverse communities. Ada's List is a global network of women and non-binary people who are committed to changing communities, our workplaces and the tech industry for the better.
The speakers
Saki Shinoda, Machine Learning Engineer, AR R&D: Saki works on developing computer vision research into features for the Niantic AR platform. She studied Natural Sciences at Cambridge University and had almost fully specialised in physics when a course in experimental psychology, a data science internship, and her undergraduate dissertation led her to explore machine learning instead. She obtained a master's degree in Computational Statistics and Machine Learning at University College London, completing her thesis in the Computer Vision group. Prior to joining Niantic, she worked in e-commerce, pharmaceuticals and financial trading, applying machine learning to those domains.
Danbi Lee, Product Manager, Geodata Platform: Danbi owns the growth, management and delivery of location data for Niantic's games. She has always let her passion and curiosity for the built environment guide her career decisions over the years. As an academic, she's published several papers illustrating how geospatial technology helps us explore the impact of urban design decisions on the lived urban experience. Prior to product management, Danbi worked as an environmental scientist, urban planning consultant, municipal parks planner, geospatial analyst, and information manager in Canada, the Netherlands, and now the US.
Loren Sherman, Technical Artist: Loren works with both art and code at Niantic, taking cutting-edge AR technology and helping game teams find new ways for players to have fun with it. This is Loren's first full-time job in the game industry. They started working at Niantic after we acquired Escher AR, an MIT-based startup in which Loren had held a similar role during undergrad. Game development has been Loren's passion since they were very young; they hope to create games that connect people, empower communities, and support mental and physical health.
The conversation will be moderated by Kit Gilbert, who manages HR and Operations for Niantic in EMEA.
The logistics
We'll be hosting this event on Zoom, so please do join at 6:00pm to catch the full talk.
6:00-6:45pm: Moderated panel discussion with our speakers
6:45-7:30pm: Audience Q&A
The series
Niantic is proud to be partnering with YSYS, Ada's List and Women in Games to bring you Niantic Office Hours.
Why?
We know our industry needs to do far more to welcome in women and minority groups, and – crucially – to help them thrive once they're here. We started Niantic Office Hours to extend the support we provide to our employees outside of our walls and into the UK games and tech community.
What?
Niantic Office Hours is a series of events ranging from panel discussions on how to advance your career, to interactive workshops that let you develop and share your craft with likeminded peers. Each event is for women (no matter how you identify as a woman), non-binary and gender non-conforming individuals, and minority groups.
We collaborate with one or more of our partners for each event to help reach these groups and curate valuable experiences. Tickets are free, and there are a limited number available to make sure all attendees get value from the sessions.
What's next?
We'll be hosting a Niantic Office Hours event once every quarter. You can keep an eye on what's coming up via our Eventbrite page and by signing up to our mailing list.
More about Niantic
Niantic is the world's leading AR technology company, sparking creative and engaging journeys in the real world. Our products inspire outdoor exploration, exercise, and meaningful social interaction.
Originally formed at Google in 2011, we became an independent company in 2015 with a strong group of investors including Nintendo, The Pokémon Company, and Alsop Louie Partners. Our current titles include pioneering global-control game Ingress, record-breaking AR game Pokémon GO, and recently released third title, Harry Potter: Wizards Unite.
Our London HQ is home to a variety of teams, from Games to AR R&D. We're always on the lookout for talented individuals to join us, so please check out our careers page for opportunities.