NHS of Queens Housing Expo 2018/ Feria del Hogar 2018
Description
*Free giveaways provided to the first 150 people in attendance*
En Español mas adelante.
For more than twenty years, Neighborhood Housing Services (NHS) of Queens has been helping stabilize communities across Queens by providing the tools for individuals to become first time homebuyers and successful homeowners. Every year NHS of Queens organizes a Housing Expo where we take the opportunity to bring all our services and resources to the heart of the Queens community.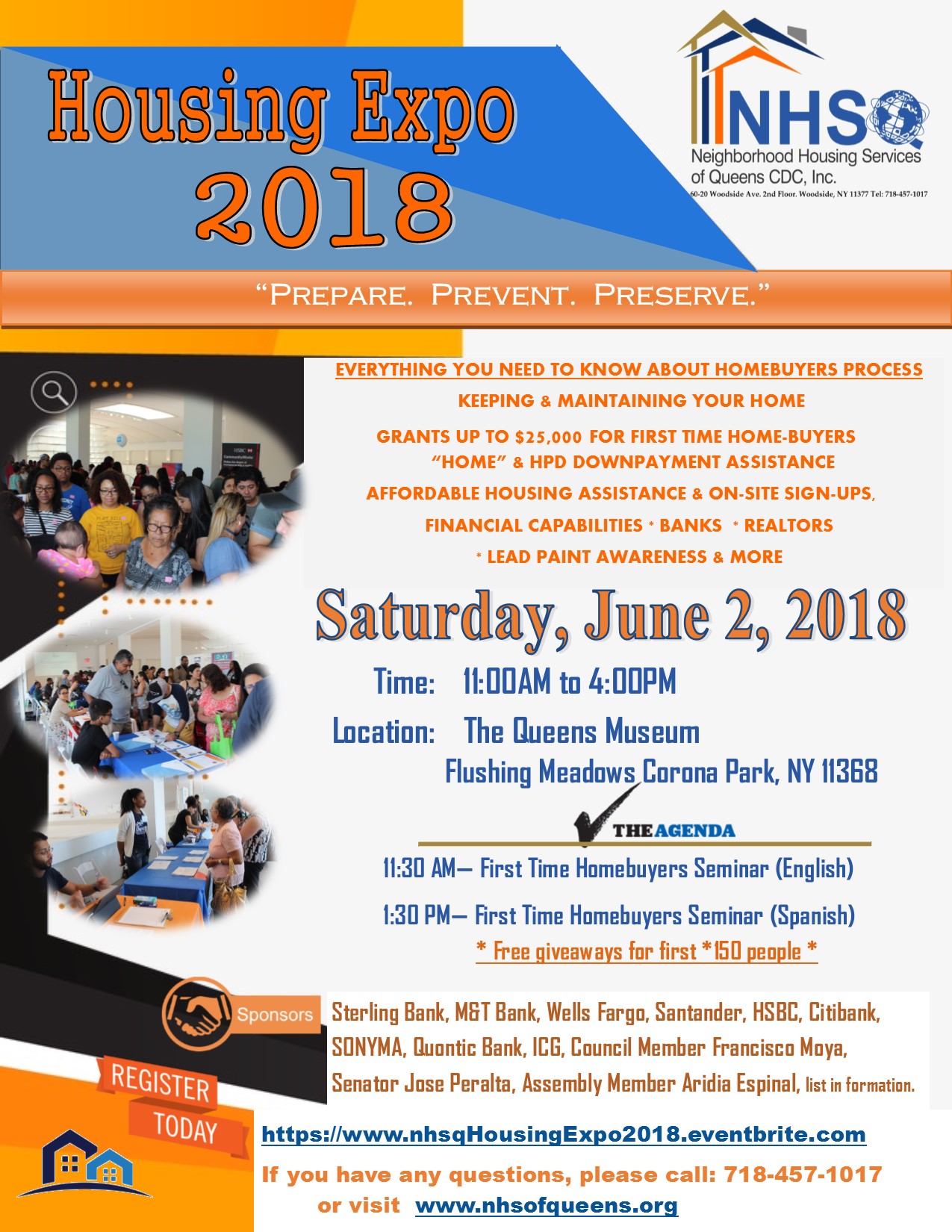 The following services and activities will take place at the Expo on Saturday June 2, 2018 at the Queens Museum:
First Time Homebuyers Grants & Loans for Down Payment (Up to $25,000 HPD Grant, if you qualify)

Refinance Counseling

Home Improvement Program

Foreclosure Intervention Services and Modification Counseling

Legal Services

Home and Health Insurance

Home Maintenance Training

Affordable Housing Assistance

Lead Paint Program Information

Flood Insurance Information

AND MORE!
Space is limited! Register now.
---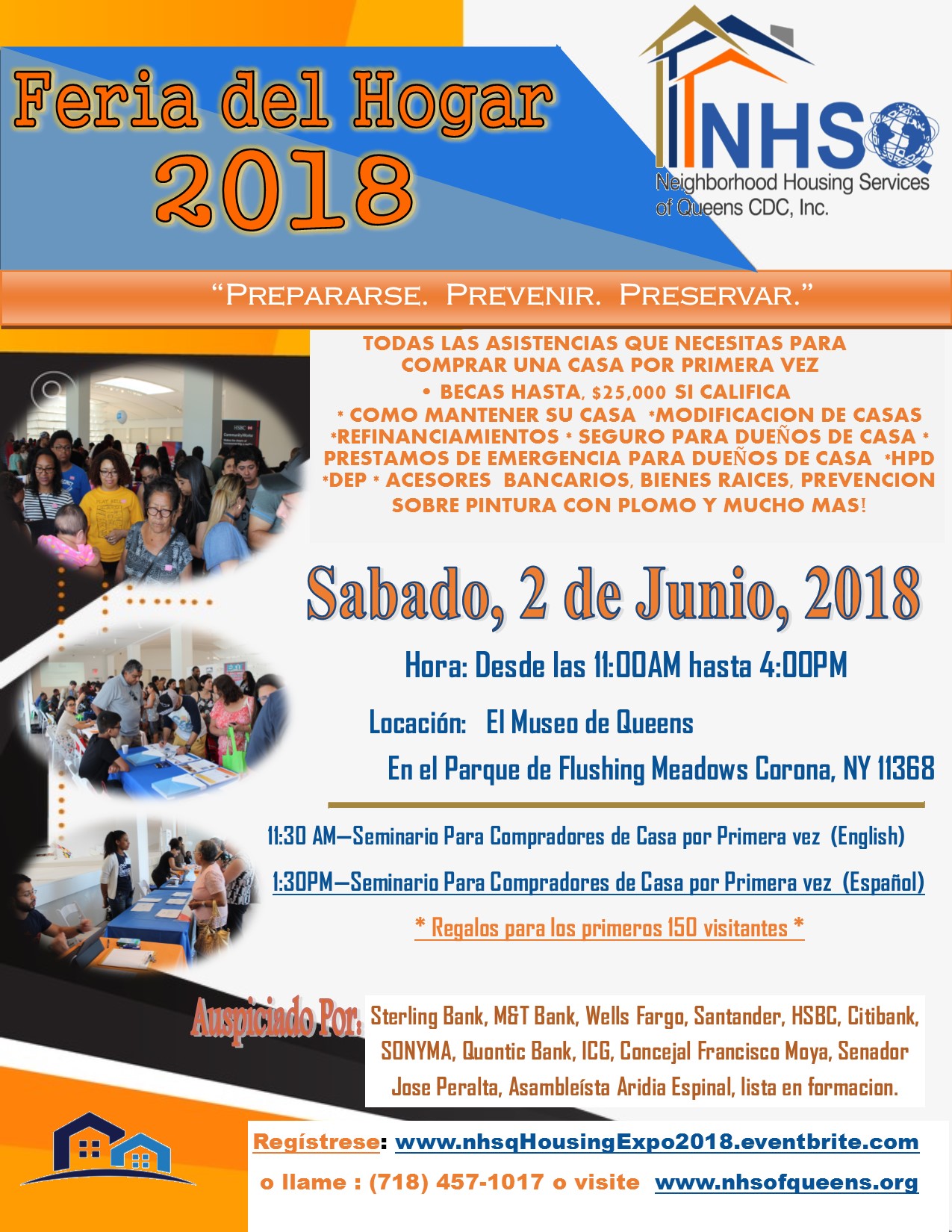 * Regalos para los primeros 150 visitantes *
Durante más de veinte años, Neighborhood Housing Services (NHS) of Queens ha estado ayudando a estabilizar las comunidades en Queens al proporcionar las herramientas para que las personas se conviertan en compradores de vivienda por primera vez y en propietarios exitosos. Cada año, NHS of Queens organiza una Feria del Hogar en la que aprovechamos la oportunidad de llevar todos nuestros servicios y recursos al corazón de la comunidad de Queens.
Los siguientes servicios y actividades se llevarán a cabo en la Feria el sábado, 2 de junio del 2018 en el Museo de Queens:

Becas de vivienda y préstamos para pago inicial (hasta $25,000 de subsidio, si califica)

Consejería de refinanciamiento

Programa de mejoras del hogar

Servicios de Intervención de Ejecución Hipotecaria y Asesoramiento de Modificación

Servicios jurídicos

Seguro de hogar y salud

Entrenamiento de Mantenimiento del Hogar

Asistencia de vivienda asequible

Información del programa de pintura con plomo

Información del seguro contra inundaciones

¡Y MÁS!
¡El espacio es limitado! Regístrate ahora
FAQs
What are my transportation/parking options for getting to and from the event? Como llego al Museo?
There is free parking in the two lots next to the Museum.
Take #7 Train in the direction of Flushing, Queens. Your stop is Mets-Willets Point, the second to last stop on the 7 train. Follow the signs to Flushing Meadows Corona Park (exit left after the turnstiles), walk up the exit ramp of the station, over the boardwalk and into the park. Follow the path past the tennis center to the Unisphere. The Museum will be on your right.
You can also get off at the 111th Street subway stop. Walk south towards 49th avenue and take a left into the park. Follow the path, past the garden roundabout and over the highway. You will see the USTA National Tennis Center on your left. The Museum will be on your right.
There are two entrances to the Museum, one facing the park and the other facing Grand Central Parkway. Please allot 15 minutes for the walk from either subway station to the museum. You can use any ride-sharing app to get to the Museum faster, which costs anywhere between $4-8, depending on which app you use.
Hay estacionamiento gratuito en los 2 parqueaderos a lado del museo.
Tome el tren #7 hacia Flushing, Queens. Se puede bajar an la estacion 111 Street y caminar hacia el parque hasta llegar a la 49 Avenida y una izquierda entrando al parque. Tome el camino sobre el autopista y vera el Museo de Queens a mano derecha.
Tambien puede tomar el Tren #7 hasta la parada Mets- Willets Point. Siga las señales hacia Flushing Meadows Corona Park y camine sobre la pasarella entrando al parque. Tome el camino hacia el Unisphero (derecha) del mundo y detras - esta al Museo de Queens.
Hay 2 entradas al Museo, uno hacia el parque y la otra hacia al autopista Grand Central Parkway. El camino dura unos 15 minutos desde el tren hasta el museo. Tambien puede usar un App de Transporte para llegar mas rapido, usualmente cuesta entre $4 a $8, dependiendo del aplicacion.
How can I contact the organizer with any questions?
-Please contact NHS of Queens at (718) 457-1017 or visit www.nhsofqueens.org
-Cualquier pregunta que tenga, no dude en llamarnos al (718) 457-1017 o visite nuestra pagina www.nhsofqueens.org