NHM Virtual Book Club - Cloud Cuckoo Land
On Thursday, September 15th at 7 PM we will be discussing Cloud Cuckoo Land by Anthony Doerr Virtually via Zoom
About this event
Join the National Hellenic Museum's Virtual Book Club!
Facilitated by NHM's Resident Scholar Dr. Katherine Kelaidis & Manager of Programs & Events Cairo Dye, each month the NHM Virtual Book Club chooses a book that is either inspired by the Hellenic legacy or by a Greek American author (and sometimes both!). Then we gather to discuss the book on Zoom.
Book Club is free to join and meets on the third Thursday of each month at 7 PM CDT
In September, we will be discussing Cloud Cuckoo Land by Anthony Doerr, Pulitzer Prize-Winning author of All the Light We Cannot See.
Click here to see all of our upcoming book selections
Support NHM with your purchase of Cloud Cuckoo Land! When you buy your copy through this link, a portion of the proceeds will go to NHM: https://amzn.to/3NT4FjV
Click here to support the National Hellenic Museum and Help Us Keep Programs Like This Alive!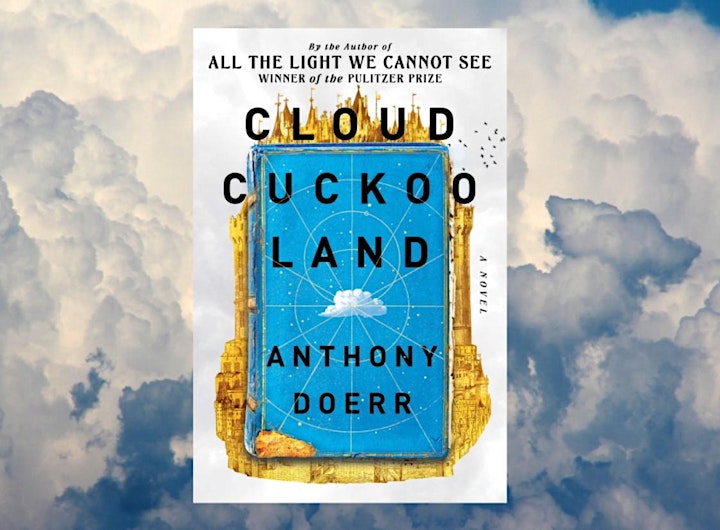 More about Cloud Cuckoo Land:
From the Pulitzer Prize–winning author of All the Light We Cannot See, comes the instant New York Times bestseller that is a "wildly inventive, a humane and uplifting book for adults that's infused with the magic of childhood reading experiences" (The New York Times Book Review).
Among the most celebrated and beloved novels of recent times, Cloud Cuckoo Land is a triumph of imagination and compassion, a soaring story about children on the cusp of adulthood in worlds in peril, who find resilience, hope, and a book.
In the 15th century, an orphan named Anna lives inside the formidable walls of Constantinople. She learns to read, and in this ancient city, famous for its libraries, she finds what might be the last copy of a centuries-old book, the story of Aethon, who longs to be turned into a bird so that he can fly to a utopian paradise in the sky. Outside the walls is Omeir, a village boy, conscripted with his beloved oxen into the army that will lay siege to the city. His path and Anna's will cross.
In the present day, in a library in Idaho, octogenarian Zeno rehearses children in a play adaptation of Aethon's story, preserved against all odds through centuries. Tucked among the library shelves is a bomb, planted by a troubled, idealistic teenager, Seymour. This is another siege.
And in a not-so-distant future, on the interstellar ship Argos, Konstance is alone in a vault, copying on scraps of sacking the story of Aethon, told to her by her father.
Anna, Omeir, Seymour, Zeno, and Konstance are dreamers and outsiders whose lives are gloriously intertwined. Doerr's dazzling imagination transports us to worlds so dramatic and immersive that we forget, for a time, our own.
On the New York Times bestseller list for over 20 weeks * A New York Times Notable Book * A Barack Obama Favorite * A National Book Award Finalist * Named a Best Book of the Year by Fresh Air, Time, Entertainment Weekly, Associated Press, and many more