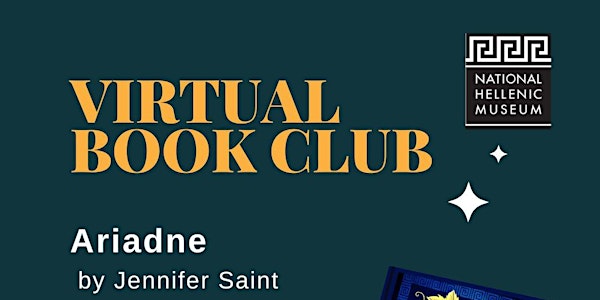 NHM Virtual Book Club - Ariadne
On Thursday, May 19th at 7pm we will be discussing Ariadne by Jennifer Saint Virtually via Zoom
By The National Hellenic Museum
Date and time
Thursday, May 26, 2022 · 5 - 6pm PDT
About this event
Join the National Hellenic Museum's Virtual Book Club!
Facilitated by NHM's Resident Scholar Dr. Katherine Kelaidis & Manager of Programs & Events Cairo Dye, each month the NHM Virtual Book Club chooses a book that is either inspired by the Hellenic legacy or by a Greek American author (and sometimes both!). Then we gather to discuss the book on Zoom.
Book Club is free to join and usually meets on the third Thursday of each month at 7pm CST.
This month's book club will occur on the fourth Thursday, as we will be holding a special panel at the museum on Thursday, May 19th.
In May, we will be discussing Ariadne by Jennifer Saint.
Support NHM with your purchase of Ariadne! When you buy your copy through this link, a portion of the proceeds will go to NHM: https://amzn.to/3DSmGJB
Click here to see all of our upcoming book selections
More about Ariadne:
Ariadne, Princess of Crete, grows up greeting the dawn from her beautiful dancing floor and listening to her nursemaid's stories of gods and heroes. But beneath her golden palace echo the ever-present hoofbeats of her brother, the Minotaur, a monster who demands blood sacrifice.
When Theseus, the Prince of Athens, arrives to vanquish the beast, Ariadne sees in his green eyes not a threat but an escape. Defying the gods, betraying her family and country, and risking everything for love, Ariadne helps Theseus kill the Minotaur. But will Ariadne's decision ensure her happy ending? And what of Phaedra, the beloved younger sister she leaves behind?
Hypnotic, propulsive, and utterly transporting, Jennifer Saint's Ariadne forges a new epic, one that puts the forgotten women of Greek mythology back at the heart of the story, as they strive for a better world.
Support the National Hellenic Museum and Help Us Keep Programs Like This Alive!