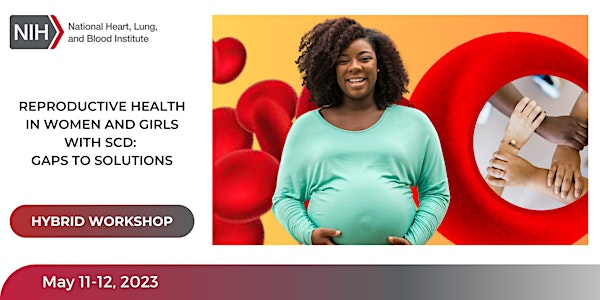 NHLBI Reproductive Health in Women and Girls with SCD: Gaps to Solutions
The NHLBI presents the 2023 Reproductive Health in Individuals with SCD: Gaps to Solutions Hybrid Workshop on May 11-12, 2023.
Date and time
May 11 · 9am - May 12 · 5pm EDT
Location
Natcher Conference Center 45 Rockville Pike Bethesda, MD 20892
About this event
Sickle cell disease (SCD) can complicate women's reproductive health throughout their lifespan. Teens suffer from severe menstrual pain and doctors often treat with contraception which increase blood clot risk. Women with SCD have lower ovarian reserve than women without SCD. This can increase miscarriages, reduce fertility, and cause early menopause. Blood and marrow transplant — the only current cure for SCD, further decreases ovarian reserve, and women can't always preserve their fertility in advance. The FDA has approved four drugs to treat SCD, but none is approved for use in pregnancy, making transfusion the only choice.
The National Heart, Lung, and Blood Institute (NHLBI) will host a hybrid event that brings together reproductive care professionals, hematologists, SCD researchers, federal agencies, and people with SCD to discuss gaps and research opportunities to improve personalized comprehensive care for girls and women with SCD across their reproductive lifespan. The workshop features U.S. and international experts from Africa, the Caribbean, and Europe who will cover the following topics in panel discussions and plenary sessions:
• Reproductive lifespan & fertility preservation in SCD
• Menstruation and contraception in people with SCD from physiopathology to treatment• Pathophysiology of SCD pregnancy • Treating SCD during pregnancy• Defining high-quality, multidisciplinary care for SCD pregnancy implementation
Speakers also will cover health disparities, gene editing, cryopreservation, clinical treatment trials, and patient perspectives.
Steering Committee:
-NHLBI Lead: Nahed El Kassar, M.D., Ph.D., DBDR/NHLBI
-Co-chair: Lydia Pecker, M.D., Johns Hopkins University
-Co-chair: Eugene Oteng-Ntim, M.D., St. Tomas Hospital, London UK
This is a hybrid workshop: When registering, please choose one ticket type (either in person or virtual)
In-person: Natcher Conference Center, NIH campus, Bethesda, MD(please register before April 27, 2023)
Virtual: ZoomGov and NIH videocast; to watch the event live via NIH videocast, please click on the link below: (please register before May 4, 2023)
Lunch for in-person participants: The Natcher Conference Center is unable to provide onsite food options at this time due to the pandemic. However, you may bring your own lunch or order a boxed lunch option from the selected catering vendor. Please order by 5:00 PM EST on May 5, 2023.
Accommodations: Individuals with disabilities who need Sign Language Interpreters and/or reasonable accommodation to participate in this event should contact Rashawn Jones at NHLBIWorkshopSupport@nih.gov. Requests need to be made five (5) days in advance.
For questions related to the content and program of this workshop please contact Dr. Nahed El Kassar at nahed.elkassar@nih.gov. For logistical questions and reasonable accommodation request to participate in this event, contact Rashawn Jones at NHLBIWorkshopSupport@nih.gov.
*Please note that if you happen to receive a notice that you order has been cancelled, it means that you have registered twice for the same attendance type (example you registered twice as a virtual attendee). This does not mean than you can not attend. It is just simply a notification that we have canceled one of your duplicate registrations.
*In-Person registration closes on April 27, 2023.
**Virtual registration closes at 5:00 PM EST on May 10, 2023.