About this Event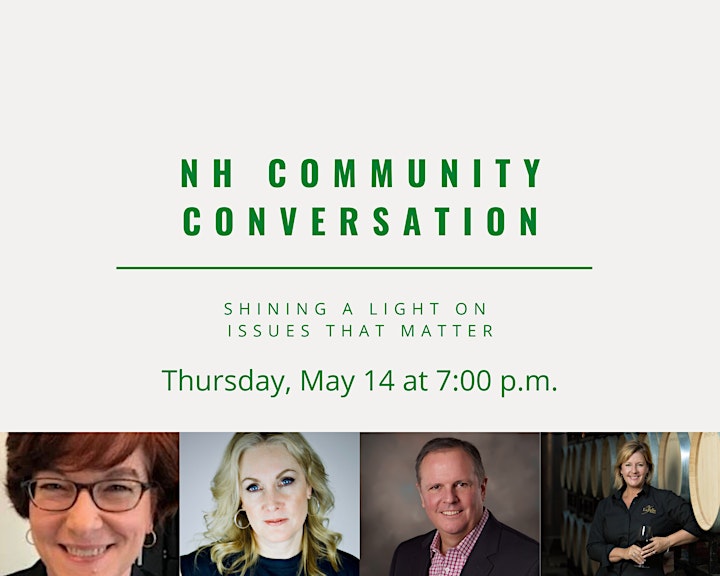 Join two Granite Staters and restaurant industry experts as they discuss how we can address the global pandemic. Together.
New Hampshire is a tight-knit community where we support one another. Since colonial times, we've used town meetings as a way to discuss issues facing us and collaborate to find solutions.
Today, faced with a global pandemic, we find ourselves in uncharted territory. In order to explore pressing issues and potential solutions that impact our state, two Granite Staters have teamed up to offer NH Community Conversation, a live, virtual town hall series that moderates a thoughtful exchange on important issues and explores ideas and viewpoints on how we move forward. Together.
First Town Hall: New Hampshire Restaurants and the Food Service Industry – What Does Open Really Look Like? A Conversation with Tom Boucher (Great NH Restaurants T-Bones - CJ's - Copper Door) and Amy LaBelle (LaBelle Winery)
Thursday, May 14, 2020 at 7pm
This live, virtual town hall will offer a discussion with two leaders in the food service industry: Tom Boucher, CEO of Great NH Restaurants (T-Bones - CJ's - Copper Door), and Amy LaBelle, Founder of LaBelle Winery.
What does re-opening look like? How can we find the right balance of allowing our restaurants to open successfully while maintaining public safety? What does the future hold for NH's restaurants and their employees?