Description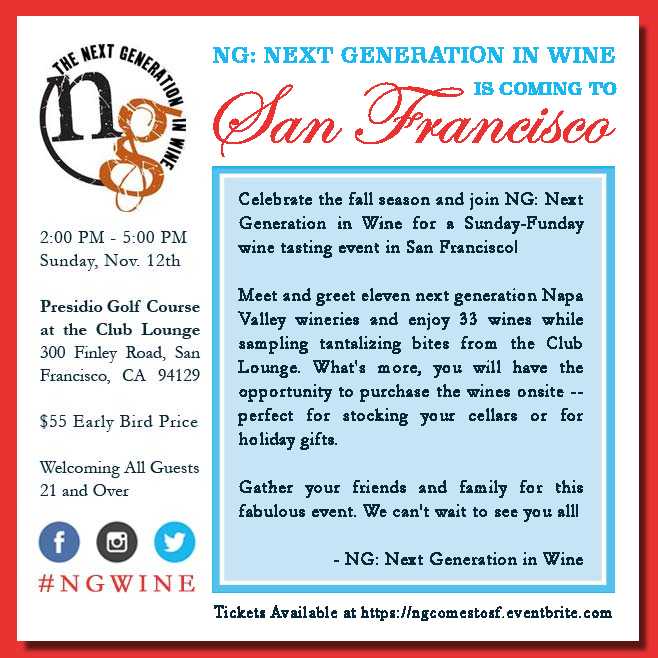 Wineries Participating:
Baldacci Winery
Robert Biale Winery
Broman Cellars
Ceja Vineyards
Napa Wine
Kenefick Cellars
Monticello Vineyards
Patland Estates Vineyard
Rock Wall Wine Company
Sciandri Family Vineyard
Sherwin Family Vineyard
Trinitas Cellars
Yates Family Vineyard
TOY DRIVE
Bring an Unwrapped Gift to the event to recieve a raffle ticket!

Organizer of NG: The Next Generation of Wine is Coming to San Francisco
The concept of NG:The Next Generation in Wine
NG:Next Generation in Wine began in 2006 during a lunch discussion about the idea of bringing together a group of the "next generation" of Napa Valley's family wineries and vineyards to socialize and have fun.
Discovering that NG: The Next Generation of Wine could be more than a social organization. The NG:Next Generation of Wine concept grew to include the value of peer-to-peer networking through collaborative marketing, while highlighting the sustainability of the family businesses and provide a platform for community activities.
A year later a NG:The Next Generation in Wine launched with six members.
Today NG:The Next Generation in Wine
NG: Next Generation in Wine has prominent members from all over Napa Valley. The group is well known for its events including a trade event in February and various consumer events throughout the year.