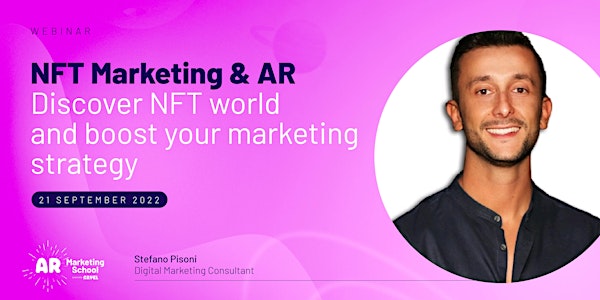 NFT Marketing & AR
Discover NFT world and boost your marketing strategy!
About this event
This webinar is part of our AR Marketing Month, an incredible 30-day round of free online webinars dedicated to immersive technologies, marketing, and metaverse with 1st class speakers, talking about the hottest trends.
👉 Do you want to know more about NFT Marketing and AR everyone is talking about these days?
If yes, you just found the perfect webinar to discover more about NFT and why they can leverage your business' marketing strategy from day one! 💥
This webinar is loaded with first-hand knowledge about NFT Marketing & AR. You will leave the session with a complete understanding of why this is a significant trend that can change how we experience the digital and virtual worlds forever and how to integrate it into your marketing funnel.
⚡️ What will I learn?
We will give you a live demonstration of:
An overview of the NFT Marketing & AR
Why NFT can be a game-changer for many businesses
How to perform NFT Marketing and how to use AR to boost it
🎙 A bit about your speaker:
This webinar is run by Stefano Pisoni, LinkedIn & Digital Marketing Specialist 🚀
🚨Essential information:
Please note that this webinar will be held on Zoom.
Once enrolled, you will receive the Zoom webinar link and password to join the call.
Ensure you join the webinar 5 minutes before the scheduled start time.