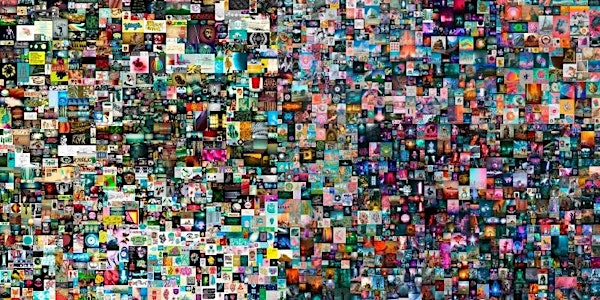 NFT Fireside Chat with Pablo Rodriguez-Fraile & Sam Peurifoy
Join us for a fireside chat with Columbia entrepreneurs on NFTs and the intersection of fine art, technology, and business.
When and where
Location
Lecture Hall @ Pulitzer Hall Pulitzer Hall 2950 Broadway, World Room New York, NY 10027
About this event
Presented by CAA Arts Access and the Columbia Venture Community; Nina F. Tannenbaum '99CC, Columbia's Original NFT3, will moderate an exclusive fireside chat with an esteemed group of Columbia entrepreneurs; Pablo Rodriguez-Fraile '10CC, '15BU and Sam Peurifoy, Ph.D. '17GSAS, '20GSAS about Non-Fungible Tokens "NFTs". We will explore the personal career journeys of these impressive innovators and introduce the NFT technology, including its web3 applications in arts, gaming, metaverse, and beyond. The talk will also include a Q&A segment, so come with questions!
The chat will be followed by a networking reception over drinks and light bites. We hope that you can join us!
Panelists (sorted alphabetically, last name):
Sam Peurifoy, Ph.D. '17GSAS, '20GSAS is a partner at Hivemind Capital, a multi-strategy crypto fund that recently raised $1.5bn. He is also the CEO of Playground Labs, a development studio that creates unique web3 gaming protocols and experiences.
At Hivemind, Sam leads all things gaming & "metaverse," as well as a major portion of the general venture pipeline. At Playground, the team is working on its inaugural two projects. The first is the Kapital DAO, a full-stack Fireblocks-like web3 gaming asset management protocol that enables institutional investors to scale seamlessly in web3 gaming. The second is a major play-and-own game with the Drone Racing League and Algorand, showcasing unique user-generated content & sustainable emission mechanics in an esports-viable framework.
Pablo Rodriguez-Fraile '10CC, '15BU is a mathematician, economist, investor, and leading patron of the arts. He is widely regarded as a key architect of the digital art ecosystem. His collection, RF Collection, is recognized worldwide as the premiere of its kind. Pablo was Beeple's first collector and holds many significant and iconic works by leading digital artists such as Refik Anadol, Beeple, Pak, and Andres Reisinger, among others. He also collects traditional blue-chip art, including work by Elizabeth Peyton.
In 2021, Pablo co-founded Aorist, a next-generation cultural institution supporting a sustainable NFT marketplace for artists creating at the edge of art and technology. Aorist will offer a cross-disciplinary program of exhibitions, commissions, partnerships, and an incubator; bridging the digital and physical domains while supporting experimentation, co-creation, and innovation.
Pablo is an expert in tokenomics, incentive systems, and early-stage markets. He is also one of the largest global virtual landowners across the different projects in the metaverse. For the past several years, he has been actively involved in the blockchain space as an early adopter, investor, and advisor to distinguished projects such as Algorand.
Prior to becoming a leader in the blockchain and digital art space, Pablo earned a mathematics and economics degree from Columbia University, where he returned to earn his MBA after serving several roles in finance including private banking, hedge funds, and private equity.
Nina F. Tannenbaum '99CC is Head of Business Operations at Algorand, in a role where she actively engages in global ecosystem development, solutions architecture, investments, and strategic projects. With a specialization in alternative investments across institutional finance, sports/media, and digital assets; Nina's career spans two decades at leading financial institutions, family offices, and fintechs. She is a professional advisor at the MartinTrust Center for MIT Entrepreneurship and a strategic advisor to DiligenceVault, a digital diligence platform. She is also a student research advisor at UMass Amherst Isenberg School of Business, focusing on the fractionalization and democratization of private markets. Nina serves as a board member at Columbia University, where she creates financial education and inclusion programs through the Columbia College Women's Association (CCW). Nina holds her BA from Columbia University and an MBA from MIT Sloan.