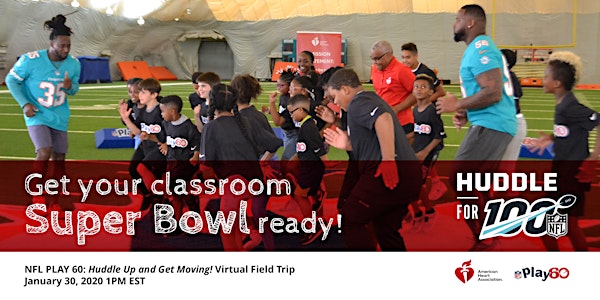 NFL PLAY 60: Huddle Up and Get Moving! Virtual Field Trip
Don't miss your chance to Huddle Up and Get Moving! with NFL Players, Cheerleaders and American Heart Association volunteers Miami style.
About this event
TO WATCH THE PREMIERE VISIT:
https://aha-nflplay60.discoveryeducation.com/field-trip
Join the National Football League, American Heart Association, and Discovery Education for an all access pass behind the scenes of Super Bowl LIV in Miami as we celebrate the NFL's 100th season. Huddle to Play It Forward with NFL Players, Cheerleaders and American Heart Association Volunteers.
Register today for the premiere on January 30, 2020 at 1 PM EST.
Register today to learn how you can get your classrooms physically active and give back to your community through health and wellness! Strengthen your bones and muscles and then find out how NFL players and students nationwide have donated 100 minutes of their time to help strengthen their communities. Don't miss your chance to celebrate in style with an inside look at the Miami Dolphins practice field and stadium, home of Super Bowl LIV.
Now through the Super Bowl, we are inviting you and your classrooms to be a part of Huddle to Play It Forward. Volunteer by getting out, getting active, and improving your local community. Submit a photo or :15 video of your classroom volunteering here or share on social @DiscoveryEd using #GetMovingPLAY60.
Share how your classroom gets moving and have the chance to interact with @American_Heart @NFLPLAY60 and @DiscoveryEd. Post your experiences to Twitter using the hashtag #GetMovingPlay60.
To learn more about this program and to access the free, standards-aligned resources, visit www.aha-nflPLAY60.discoveryeducation.com.
No special equipment is needed to view this event online. All you need is an internet connected computer (and a way to share with students - projector and speakers)
Frequently Asked Questions
Q: Do I need to register all my students or just my classroom?
A: You only need one ticket for a location or classroom. All your students are covered by the one ticket.
Q: My classroom can't make this time, will there be an archive?
A: Yes, classrooms and teachers registered for the event will be notified when the archive is available soon after the premiere.