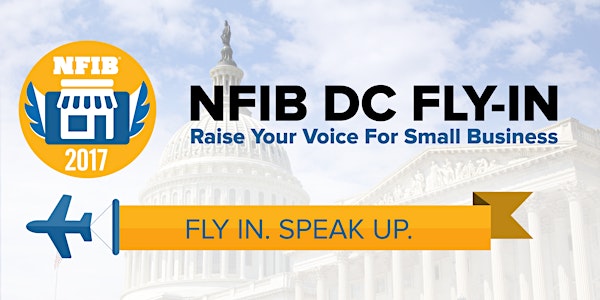 NFIB Advocacy Academy and DC Fly-In 2017
Refund Policy
Contact the organizer to request a refund.
Description
Join NFIB for our first ever Advocacy Academy and DC Fly-In July 26 and 27, 2017.


A new Congress has been elected to represent you and your business, and there is no better time than now to learn how you can enhance your influence with elected officials.

NFIB's Advocacy Academy is a unique opportunity for members to get hands-on, in-depth training on how they can significantly enhance their abilities to influence lawmakers and speak to the media.

The half-day training will focus on:
How legislators make decisions and what influences them
How to develop long-term relationships with state and federal legislators and their staff
How to create stories to move the hearts, minds, and votes of lawmakers
Use of social media on Capitol Hill
Creating mini-grassroots networks at home
Demystifying the media and how to prepare for an interview

You should attend if you are interested in:
Becoming an activist
Enhancing your understanding of the legislative and political process
Significantly

increasing

your influence with lawmakers and the media
Advocating on behalf of your business
Helping NFIB fight for small business

SPACE IS LIMITED!

**The first 40 members to register for the Advocacy Academy and the Fly-In will receive complimentary hotel accommodations for two nights, July 25 and July 26, 2017.

If you are a member of the Leadership Trust and will be attending the Leadership Trust Appreciation Dinner the evening of July 27, you will receive a complimentary night of lodging the evening of July 27. To learn more about the Leadership Trust, visit www.NFIB.com/Leadership-Trust or contact Anne-Wesley Teague at aw.teague@NFIB.org or call (202) 314-2051.