NFBPA Central Texas Chapter's Regional Leadership Summit 2017

Thursday, September 28, 2017 at 7:00 AM

-

Friday, September 29, 2017 at 7:00 PM (CDT)
Event Details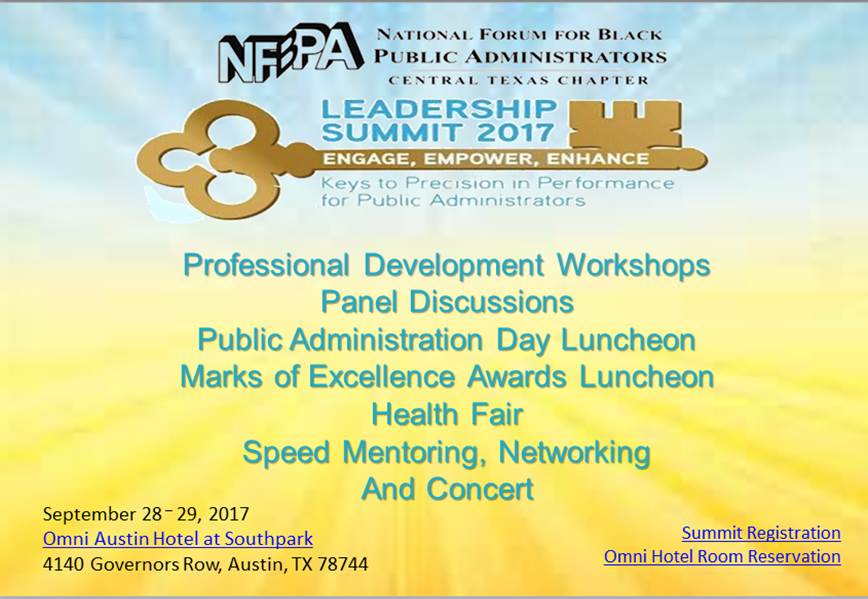 Leadership Summit 2017: Keys to Precision in Performance for Public Administrators - Engage, Empower, Enhance
 Engage – The open government initiative was created to make the federal government more transparent, participatory and collaborative. Learn how governments at all levels engage their community through the use of emerging technologies, customer service and economic engagement.  
Empower – Empowerment is not giving people power, however, it is providing people the opportunity to cultivate their existing power to make positive change within their scope of authority. How can public employees unleash this power? Gain the skills and knowledge that will allow you to overcome obstacles in the work environment and ultimately, help you develop yourself and be the positive change needed in public administration.  
Enhance – Most Public Administrators focus on implementing programs to serve the public good and/or the needs of a particular population. Strengthen your core competencies by adding new skills to your toolbox and refresh existing skills to help you improve circumstances, neighborhoods and communities.   
Leadership Summit 2017 will feature a series of workshops, forums, panel discussions, and keynote speeches to address complex issues within our communities today. The conference will provide the tools and strategies that can be used to effectively manage these issues and produce positive outcomes.
As we plan this dynamic event, it is the expectation that our attendees will leave the Leadership Summit 2017 seeking opportunities to be more engaged, feeling empowered to contribute and make a difference and enhanced in their skills to meet the challenges of public administration.
For our visiting attendees, do not miss the opportunity to experience all that Austin has to offer. As the "Live Music Capital" Austin provides an energetic music and entertainment scene. There is great dining, shopping, and numerous places to visit, people to meet, and unique things to see in Austin, Texas. We look forward to having you!
 What You Can Expect?
A series of workshops and seminars for the development and enhancement of the public administrator as well as private industry.
Cutting-edge thinking by state, regional, and national speakers from across the US to encourage more engagement in our communities.
T

he Education Excellence Scholarship Luncheon seeks to promote public administration to our local high school students while providing inspiration for future enhancement.
A meeting of prominent city, county, state, and national leaders from varying spectrums in public administration such as utility executives, regional and national city management experts to discuss challenges and opportunities facing their cities. 
Numerous opportunities  to expand your network of career associates and gain a national view as you meet and greet highly respected colleagues from around the country
  Who Should Attend? 
City/County/State & Federal government employees

University or college administrators

School district administrators/employees

Non-profit organization employees

Community and economic developers

Vendors seeking governmental business

Potential employees

Presenters/Speakers
*  Fully paid registration includes all workshops, forums, luncheons and concert.
---
NFBPA 2017: "Keys to Precision in Performance for Public Administrators: Engage, Empower, Enhance"

LEADERSHIP   SUMMIT 2017

Program of Events-at-a-Glance

(Program is   subject to change)

THURSDAY, SEPTEMBER 28, 2017

TIME

WORKSHOP / EVENT

LOCATION

07:00 – 05:00   pm

Information Desk Open

Main Entry Foyer

07:30 – 09:00   am

Continental Breakfast

Upper Foyer

08:00 –   12:00 pm

Heart & Soul Health Fair

Lower Foyer

09:00 – 10:30   am

Opening Plenary Session

 

Keynote Speaker:

Jonathan Sprinkles

Omni EF

10:45 – 11:45   am

Workshop A – Panel Discussion

Building Public and Private Alliances Advocacy Networks Engage

Panelist: Susan Dawson, Ashton Cumberbatch,   Kazique Prince

Oaks

10:45 – 11:45   am

WORKSHOP B

Building Resilient Communities During Disruptive Times – Engage

Presenter: Patricia V. Hayes, JD   Principal/Owner of PVH Consulting Group, LLC

Conference Center


 

10:45 – 11:45   am

WORKSHOP C

Leading Change: Changing Cultures, People, Attitudes, and Behavior - Empower

Presenter: Shelia Balog

Southpark B

12:30 – 2:00   pm

EDUCATIONAL EXCELLENCE LUNCHEON
  Sponsored by: Travis County

 

Keynote Speaker:

Shaka Smart, Head Coach, Men's Basketball
  The University of Texas at Austin

Omni A-D

1:45 – 3:15   pm

WORKSHOP D – Panel Discussion

Developing Public Private Partnerships: Case Study- Colony Park and Mueller   Redevelopment - Empower

 

Moderator: David Smythe-Macaulay

Panelists: Pam Hefner, Martin Barrera

Ballroom EF

1:45 – 3:15   pm

WORKSHOP E

The County's Role in Shaping the Future of Workforce Development   - Enhance

Presenter: Commissioner   Jeffrey Travillion, Precinct 1,Travis County

Conference Center

1:45 – 3:15   pm

WORKSHOP F

Building and Leading High Performing   Teams - Empower

Presenter: Darrel Pierce, SNAP Management

Southpark B

3:30 – 05:00   pm

WORKSHOP G

Generation Architect - Empower

Presenter: Koy McDermott

Omni EF

03:45 – 05:00   pm

WORKSHOP H

Reclaiming Our Time-21st   Century Fathers - Enhance
  Presenter:   Kenneth Thompson

Conference Center

03:45 –   05:00 pm

SPEED MENTORING – Empower/Enhance

Enabling   inspiring Public Administration professionals (mentees) the   opportunity to ask mentors questions on leadership and other professional   development attributes.

Oaks

7:00 –   10:00 pm

The President's Reception

Hosted by: ConferenceChairs
  Mallinee Smith-Diggs & Para LaNell Agboga

Entertainment: Andrea Bridgeman

Oaks
FRIDAY, SEPTEMBER 29TH

TIME

WORKSHOP / EVENT

LOCATION

07:00 – 12:30 pm

Information Desk Open

Main Entry Foyer

07:30 – 09:00 am

Continental Breakfast

Upper Foyer

09:00 – 10:30 am

Opening Plenary – Panel Discussion

Welcome:
  Sonia Gaillard

 

Moderator: Aaron Demerson
  Panelist: Michael Bryant, Tracey   McDaniel, Dovie Jackson, LeSha Lenzy, Michael Parks

Omni EF

10:45 – 12:15 pm

WORKSHOP A

From Networking to Net Giving, How to   create Authentic Professional Relationships that Last -
  Engage

Presenter: Patricia V. Hayes

Southpark A

11:00 – 12:15 pm

WORKSHOP B – Panel Discussion

Tech Town Hall: Handling Cyber Security - Engage

Panel: Stephen Elkins, Alexis Choice

Omni EF

11:00 – 12:15 pm

WORKSHOP C

Surviving Intolerance in the 21st   Century - Empower

Presenter: Jeffrey Hill

Conference Center

12:30 – 2:30 pm

 

MARKS OF EXCELLENCE LUNCHEON
  Sponsored by: City of Austin

                         United Healthcare

Keynote Speaker –   Dr. Ryan Sutton

Director of African American Research,
  The University of Texas at Austin

Omni:   ABCD

3:00 pm

CLOSING SESSION

The Strength To Get It Done! Empower

Speaker: Mark Henry

Omni EF

7:00 – 11:00p.m.

A Taste of Texas

Come and enjoy an evening of our native Texas Artist in song and   dance.

Our performers are well known around the Austin Area. We are excited for the opportunity to hear   and see their talent. We promise you that it will be one of the most   enjoyable evenings Austin as ever had.

Conference registration includes   ticket

Individual tickets can be purchased   at:

$10.00 students
  $20.00 presale
  $30.00 at the door

Omni Ballroom

 
 
 
 
 
NFBPA Disclaimer
Any views or opinions presented are solely those of the author or presenter and do not represent those of the National Forum of Black Public Administrators (NFBPA) or any of its sponsors. The members, vendors, and guests have been notified that defamatory statements and the infringement of any legal rights of others will not be tolerated.  NFBPA will not accept any liability in respect to such communication as it is contrary to our mission and goals.
When & Where

Omni Austin Hotel at Southpark
4140 Governors Row
Austin, TX 78744


Thursday, September 28, 2017 at 7:00 AM

-

Friday, September 29, 2017 at 7:00 PM (CDT)
Add to my calendar
Organizer
NFBPA is the principal and most progressive organization dedicated to the advancement of black public leadership in local and state governments. An independent, nonpartisan, 501(c)(3) nonprofit organization founded in 1983, the NFBPA has established a national reputation for designing and implementing quality leadership development initiatives of unparalleled success.