Join us for a fun evening of dance and fundraising to celebrate Black History Month!
About this event
Nezwick Jive at Anerley Town Hall presents its Black History Month Charity night in aid of the Sickle Cell Society.
Join us for an evening of dance and wear something red or black to show your support.
All proceeds go to support the work of the Sickle Cell Society.
Enjoy modern, soul, R&B line dance and LeRoc Jive Classes.
6:45 Doors
7:00-7:45 Modern Line Dance/Strolls Class
7:45-8:00 Line Dance Practice
8:00-8:40 LeRoc Jive Beginners Class
8:45-10:00 Extended Freestyle
No partners needed and complete beginners welcome!
Plus free parking and free tea and coffee.
Please take a rapid lateral flow test before arriving. Even if vaccinated you can still pass COVID on.
Got questions?
Facebook: NezwickJive
Email: nezwickjive@outlook.com
Phone: 0781 623 1960
-------------------------------------------------------------------
About the Sickle Cell Society
The Sickle Cell Society is the only national charity in the UK that supports and represents people affected by a sickle cell disorder to improve their overall quality of life. First set up as a registered charity in 1979, the Sickle Cell Society has been working alongside health care professionals, parents, and people living with sickle cell to raise awareness of the disorder. The Society's aim is to support those living with sickle cell, empowering them to achieve their full potential.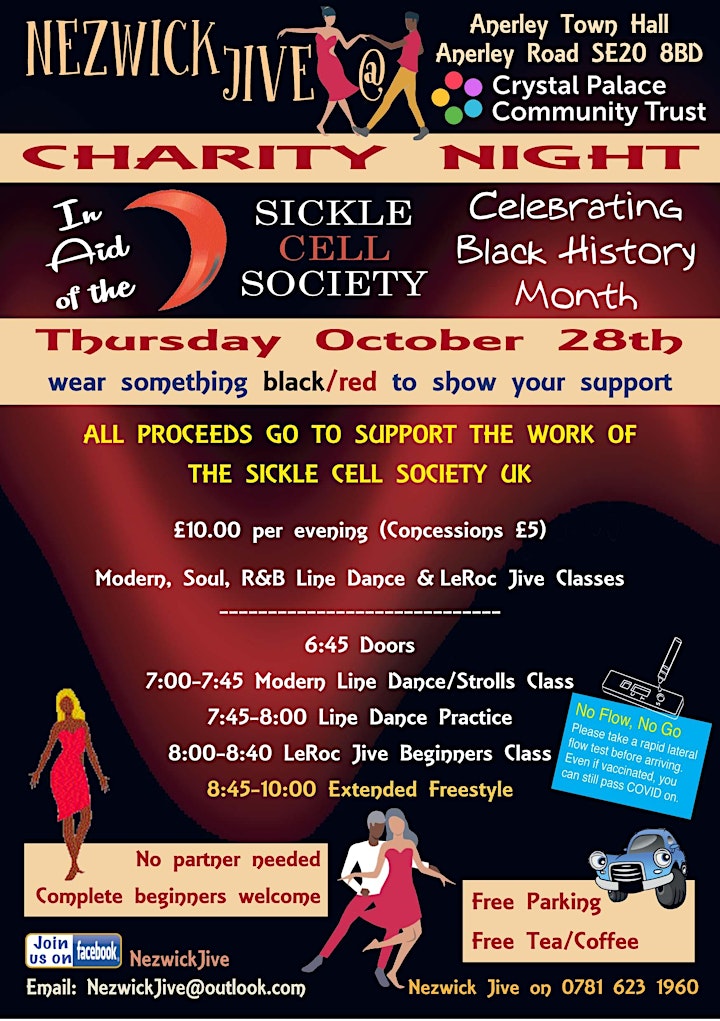 Organizer of Nezwick Jive Charity Night
The Sickle Cell Society is the only national charity in the UK that supports and represents people affected by a sickle cell disorder to improve their overall quality of life. First set up as a registered charity in 1979, the Sickle Cell Society has been working alongside health care professionals, parents, and people living with sickle cell to raise awareness of the disorder. The Society's aim is to support those living with sickle cell, empowering them to achieve their full potential. To find out more visit www.sicklecellsociety.org or on Twitter, Facebook or Instagram: @SickleCellUK