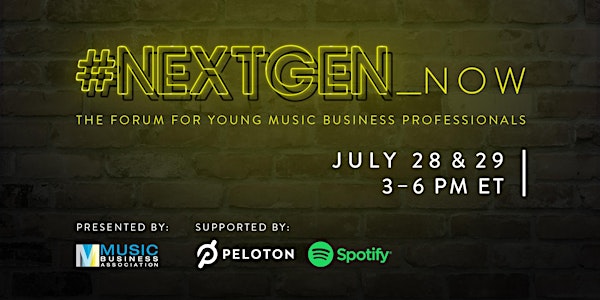 #NEXTGEN_NOW
Calling all young professionals in the music industry – Music Biz has put together a virtual event exclusively for you.
About this event
Introducing #NEXTGEN_NOW. Young industry voices today are proving that age does not always equal authority and that the next generation is not necessarily next – it's now. The first #NEXTGEN_NOW Virtual Summit will bring together young professionals in the music business to discuss personal & professional development, perseverance, entrepreneurship, impact, and how their new innovative ideas are influencing and transforming our industry.
Join us for a few hours (3 - 6PM ET) on July 28 + 29 for keynotes, panels, and breakout sessions on mental health and wellness, side hustles, COVID career pivots, creating change, building community + more. Visit bit.ly/nextgen_now for the full schedule and all other details.
We'll even announce special random one-on-one virtual pair-up opportunities as the event nears so you can meet other young professionals in the industry before and after #NEXTGEN_NOW.
PLEASE NOTE: Music Biz wishes to ensure that EVERYONE who desires to attend this event is able to do so. If you are a young professional who is experiencing financial hardship, please submit a request for your registration to be fully or partially sponsored to info@musicbiz.org. All requests will be kept completely confidential.
If you are an executive who wishes to sponsor an attendee seeking financial assistance and/or purchase bulk tickets for your young professional staff members, please contact nick.maiale@musicbiz.org.