Description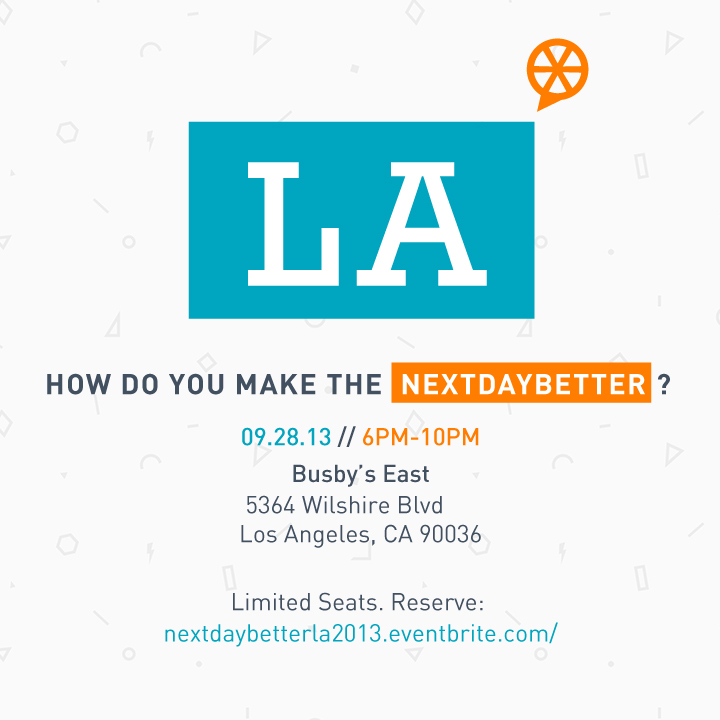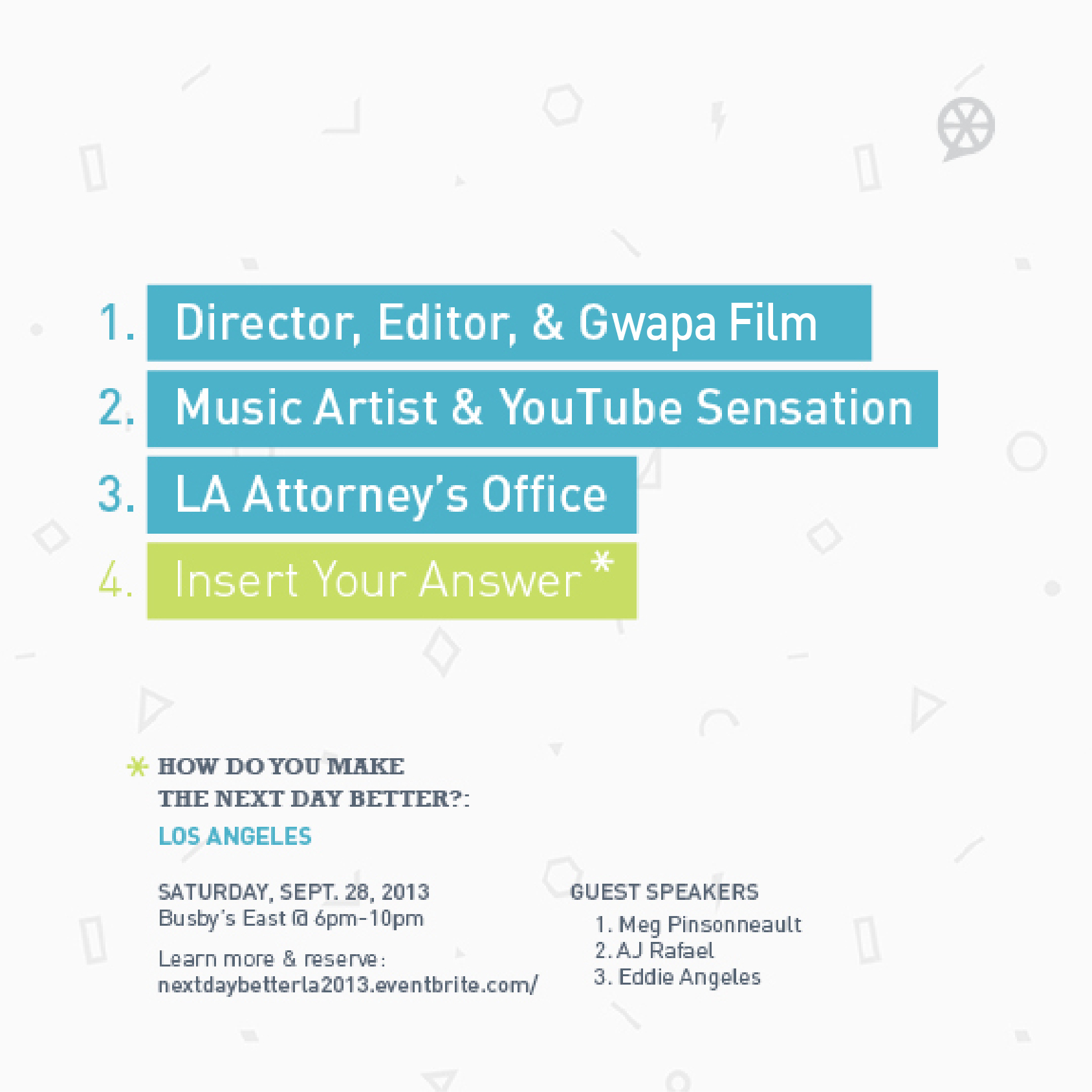 Imagine a room filled with incredible makers, creatives and doers who are dedicated to creating a better future. Are you coming?
NextDayBetter presents a national event series taking place in New York City and Los Angeles. We are bringing together storytellers and superheroes to share how they make a next day better in their own unique way. Their ideas and actions are Philippines flavored and rooted in entrepreneurship, design and innovation.
Our 2013 New York City event took place on Sept. 14th and was a huge success. The speakers included Jose Antonio Vargas, Jayson Atienza, Ray Sison, Faith McCollister, Jose Llana, and Tara Abrahams.
For footage on how the event turned out, visit: http://FB.com/NextDayBetter
Join us on Saturday, September 28th, in Los Angeles and hear the inspiring stories of:
1. AJ Rafael, Music Artist/YouTube Sensation/Founder of Music Speaks
2. Eddie Angeles, Los Angeles Senior Assistant City Attorney
3. Meg Pinsonneault, Award-winning Filmmaker, Director/Editor of The Gwapa Film
Seats are limited, so be sure to reserve your ticket today!
For more information, contact curious@nextdaybetter.com.
Organizer of NextDayBetter Los Angeles
About: NextDayBetter is a platform that spreads ideas and actions that make the next day better. Ideas and actions are Philippines-flavored and rooted in design, entrepreneurship and innovation. We invite innovators, entrepreneurs, designers, do gooders — both Filipino and Non-Filipino—to share their stories about creating a better future. Website launching August.
About: SALO is a moveable Filipino pop-up dinner. Salo, derived from "Salu-salo" which means a dinner party, is designed as a gathering of the curious ones, adventuring for deeper understanding of native feasts. It was borne from the realization that, despite the rising popularity of Filipino cuisine, it is not fully represented outside of the country. SALO aims to raise community and cultural awareness through food. Yana Gilbuena, a designer and creative, started SALO as a means of bringing people together through this cultural and culinary journey. By applying a designer's perspective, Yana creates a dinner experience that is carefully orchestrated to showcase the dialogue between dishes: how the flavors and textures interact; the sequence and flow; as well as the interaction between the diners, as they're exploring the Philippines through their palates. Check out their feature on web-series, Anthony Eats America, here. Instagram: @SALOGRAM #saloseries #salo
About: Since 2008, The Feast has been committed to fostering a community of innovators who are revolutionizing their industries and striving for social impact. Each year we host a flagship Conference to share unique perspectives and tackle today's greatest societal challenges. Our Conference serves as a starting point for relationships, groundbreaking projects and new initiatives that run all year long. In 2012, we expanded internationally and created The Feast Worldwide. This independently organized series of dinner parties runs in parallel with our Conference. It gives passionate people from around the world a chance to engage their own communities in collective action.