Description
Have YOU heard the buzz about the #X4Nadia Campaign for Ms. NADIA Jackson of Even Wings?
Buy an OGX Shake Bag or two TODAY to help US #ShakeThingsUp in an AWESOME Way... Curious How?
WELL, read on to understand and learn more. We promise its not a Bore!
FIRST... WE THANK YOU 4 TAKING THIS TIME...
SECOND... Do you STILL remember some of the health goals you originally planned to reach in 2018?
The NEW Year is ALWAYS a chance for us ALL to hit the restart button and do some of the things we promised ourselves we would. If your health is on the list of 2018 goals, then let US help you achieve them.
WE would like to present to YOU the Delicious HEALTHY OGX Nutritional Shake System (natural energy and detox drinks as well). It supports an active and healthy lifestyle by combining the best nutrients, immune support and producing incredible results. This FENIX Meal Replacement Shake provides an optimal balance of protein, fiber, and super nutrients and vitamins to support lean muscle, weight loss and management, while delivering an unbelievable flavor. Each Shake Bag contains a scooper that measures about 30 shakes for a 2week to a MONTH worth of meals. It works out to be $2.13 a meal. That's an AMAZING SAVINGS.
ONE shake a day will help maintain your desired weight or add muscle weight when added to a meal.

TWO shakes a day will melts the pounds away when replaced for a meal. Helping you reach those healthy fitness and weight loss goals.
Thousands of people all over the world are managing their weight and looking GREAT with OGX and now its your turn to do the same while giving back as well.
So THIRD...We are inviting YOU to join in on this amazing healthy campaign challenge. It's not just any weight loss challenge; it's also a challenge that will make a life-long difference in this young girl's life! Meet NADIA...
Video of Nadia: https://youtu.be/0bQBZFYTKZI
Many have decided that WE are going to #ShakeUpScoliosis together and help Nadia correct her back. She's a beautiful, smart (honor student), high school senior suffering daily with scoliosis and desperately needs our help in order to get the life-changing surgery she needs. WE pray to have surgery soon and recover right in time to pick a nice dress (she likes) for her High School Prom.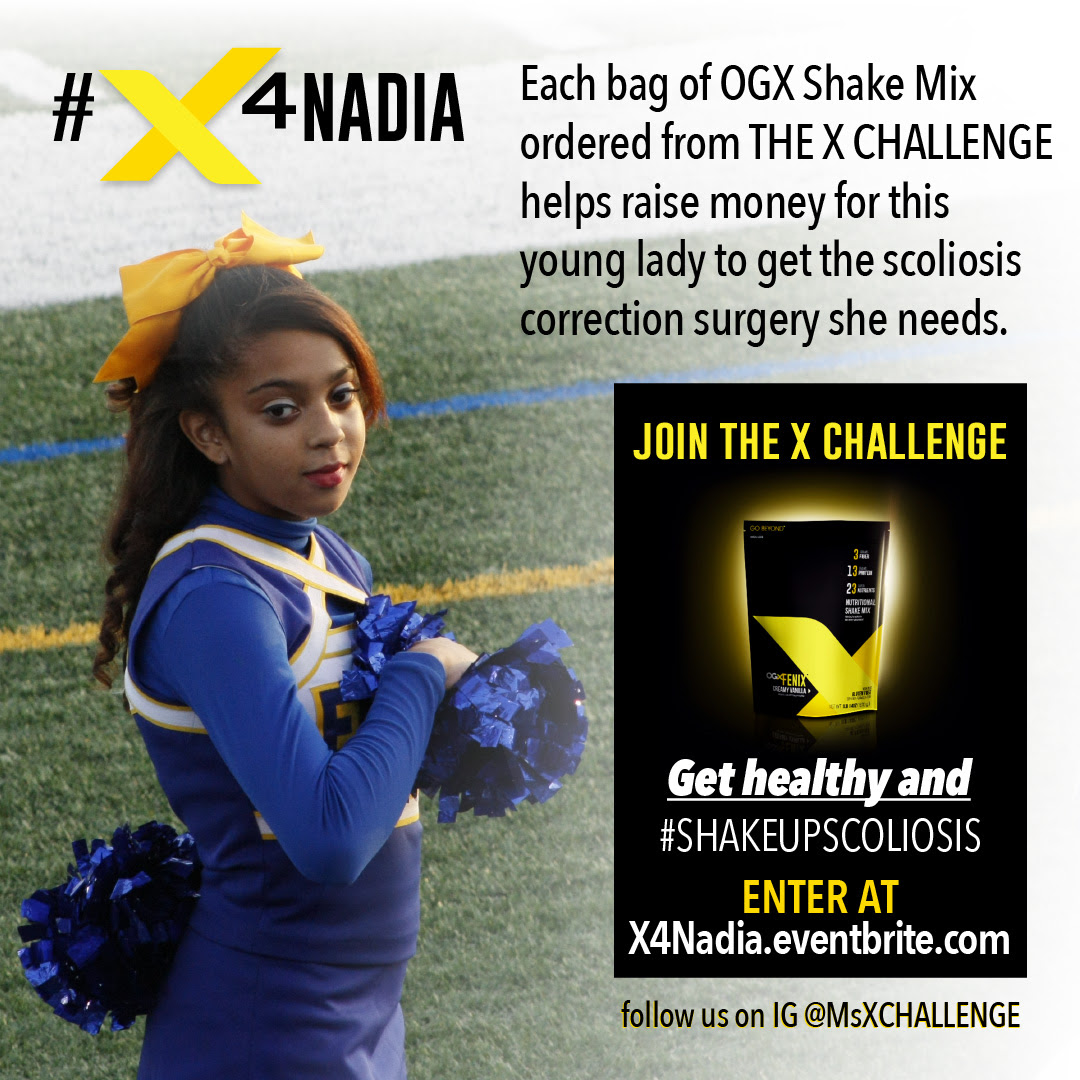 We would love for you to join us!
An amazing, normal life for Nadia is on the horizon and a healthier, sexier, slimmer version of YOU is as well. Like and Follow US on Fb.me/MsXChallenge
1st group of Challengers that are #shakingthingsup with us started on Saturday Jan 27th
HERE ARE 4 options you can choose from to fully support THIS X4Nadia Campaign
1. YOU can just Shake Things Up at your own speed no challenge contest entry required with ticket purchase.
2. YOU can join in on THE Upcoming 30Day Biggest Loser Challenge Contest dates for:
3. YOU can buy an #OGXFenix shake bag to gift a family member or friend WHO needs/wants the health benefits and extra nutrition it provides or
4. YOU can leave a Big Heart Donation (under tickets) and 100% goes back to #EvenWings for Nadia's Correctional Surgery.
Either way its a Win Win
ALL Shipments are shipped out priority
AND thank you cards personally written and signed from Nadia.
So HERE are the Contest Rules (Optional Entry):
***ENTER BY March 29th (for out of ATL/ the state of GA) or March 31st for Atlanta Residents***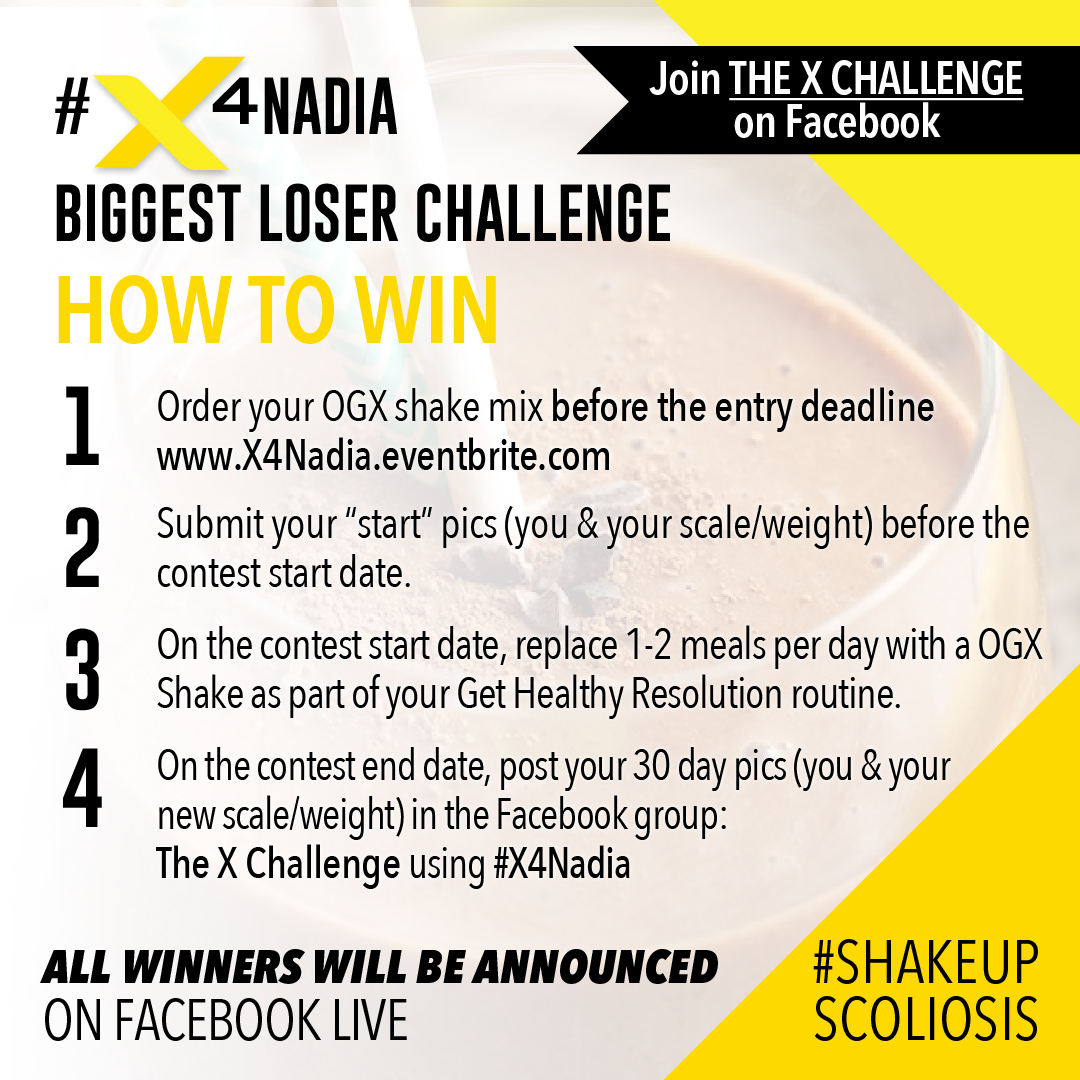 Grand PRIZE
The MORE people who enter, the BIGGER the prize! ONE Winner will be selected on February 28th, 2018 and May 8th, 2018
GOAL: 100 bags of OGX Shake Mix are ordered. Raising at least $2500 towards Nadia's Surgery

$250 given to the Biggest Loser when 100 bags or more of OGX Shake Mix are ordered.
PLUS, Business and Life Coach Mr. Samuel Bean will donate $250 towards monies raised for Nadia as well.
$100 given to the Biggest Loser when 50-99 bags of OGX Shake Mix are ordered.

FREE bag of OGX Shake Mix and OGX Shaker cup given to the Biggest Loser when up to 49 bags of OGX Shake Mix are ordered

---



Nadia and her campaign volunteers such as myself, Thank you dearly for your LOVE and Generous Support. May abundance and grace flow in all areas of your life.
Date and Time
Location
Refund Policy