Description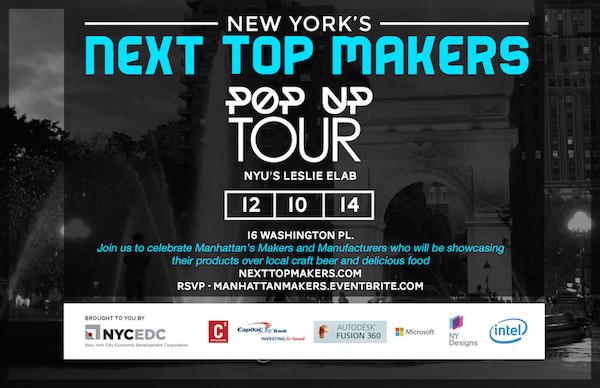 You are cordially invited to the Next Top Makers Manhattan Pop Up on Wednesday, December 10 from 7-10pm. Over hors d'oeuvres and drinks, meet innovative Makers, entrepreneurs and manufacturers and celebrate the thriving Manhattan business ecosystem. Featured makers include Next Top Makers Fellows Sensory Percussion, DIYability's Capacita and Poursteady, as well as Strong Arm Tech, Solight Design's Solar Puff, Heidi Lee, Sylvia Heisel, and many more! The event is free to attend, and all ages are welcome. The Manhattan Pop Up is the fourth stop on the Next Top Maker Program's Five-Borough Pop Up Tour. Over the past three months, we've popped up at Coalition for Queens HQ, Staten Island MakerSpace and Bronx Business Incubator. Read more about the Manhattan makers on our blog!
New York's Next Top Makers is a program that encourages innovation and local manufacturing in New York City. Next Top Makers increases New Yorkers' access to new technology, technical knowhow and other resources; assists a cohort of selected Fellows to establish and grow their product businesses in NYC; and connects the surge in prototyping and production activity with New York City's existing manufacturing and industrial capabilities that already provide well-paying jobs to almost 500,000 New Yorkers. Next Top Makers is brought to you by New York City Economic Development Corporation. Follow us on Twitter @nexttopmakers and learn more about New York's Next Top Makers program at nexttopmakers.com.
Directions: NYU's Leslie eLab is located on the ground floor of the Washington Place and Greene St. corner. It is located five blocks from the Astor Place 6 stop, three from the N, R at 8th St - NYU and across the park from the A, B, C, D, E, F, M at West 4.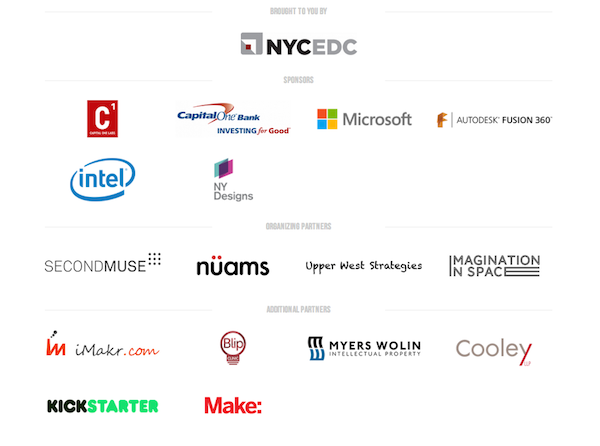 Organizer of Next Top Makers Manhattan Pop Up
New York's Next Top Makers, a program of Futureworks NYC, is a community-sourced incubator dedicated to connecting independent innovation with local production. Through its network of partners, the incubator provides holistic support to startups that are developing and commercializing new products or methods of production. Next Top Makers is growing manufacturing in NYC from the ground up. Brought to you by New York City Economic Development Corporation