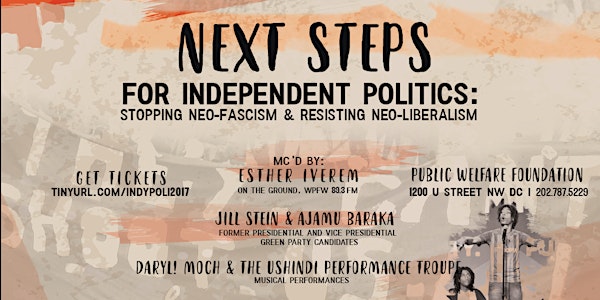 Next Steps for Independent Politics: Stopping Neo-fascism & Resisting Neo-l...
Description
The Donald Trump and Bernie Sanders campaigns of the last election cycle represented the dissatisfaction by the people in the U.S. with the Republican and Democratic Party establishment.
Conditions set for the varied fast track of oppressive policies and executive orders of the Trump administration were created, bi-partisan, by preceding administrations. The neo-liberal policies of the last Democratic Party leadership laid fertile ground for a neo-fascist, right wing populist oriented transfer of power.
If the only way forward is a people's movement truly independent of the ruling elite, what are those ways? What lessons are there from last election cycle? How do we both shield ourselves while moving forward to progressive social transformation? How should electoral politics fit in?
Join us for an exciting evening of bold addresses and cultural performances featuring Jill Stein and Ajamu Baraka, former Presidential and Vice Presidential Green Party candidates, performances by vocalist Darryl! LC Moch, and The Ushindi Performance Troupe.
Come for inspiration, answers, and opportunities for forging connections to win!
MC'd by Esther Iverem, On The Ground, WPFW 89.3 FM. Opening speakers TBA
This event is free and open to the public but a suggested $5 donation will be requested at the door to defray costs. No one will be turned away for lack of funds.
Co-sponsors: The Institute for Policy Studies, Coalition of Concerned Mothers, Howard County Friends of Latin America. A special thanks to our media sponsors, WPFW 89.3 FM, Black Agenda Report, Your World News, and We Act Radio!
(Disclaimer: This a non-partisan event and is in no way intended to promote or dissuade electoral support for any candidate. Listed affiliations are for indentification purposes only.)
Organizer of Next Steps for Independent Politics: Stopping Neo-fascism & Resisting Neo-liberalism