About this Event
Camp North End presents
Next Plate: Pairings to ignite Charlotte's Culinary//Arts scenes
A pair of leading chefs from different culinary traditions will work in tandem with an arts organization to create an unforgettable dining experience. Those in attendance can expect the unexpected, along with a multi-course meal composed around visual and performing arts elements.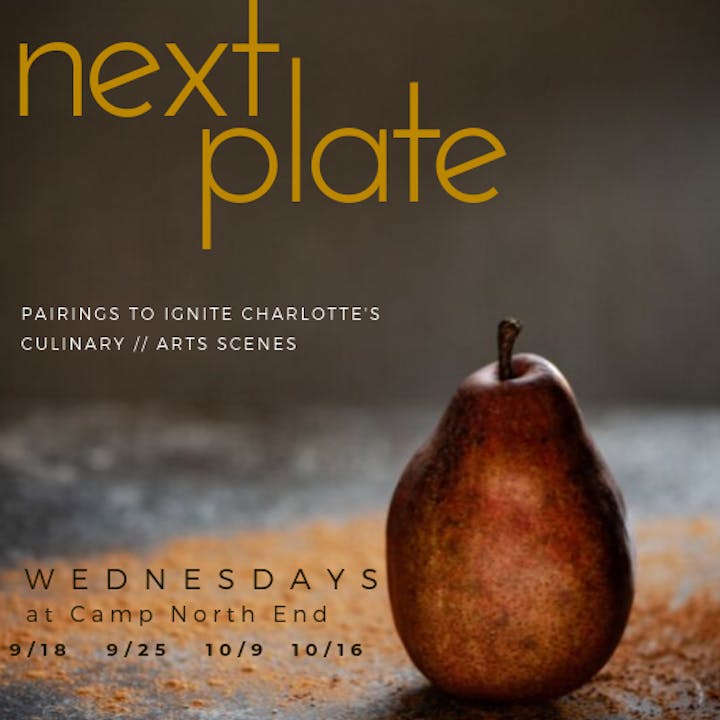 Full menu:
Welcome Punch
Rum based cocktail with citrus and effervescence to stimulate the palate.
Amuse Bouche
Yuzu Chawanmushi, Uni espuma, sea herbs, sesame
1st Course
Charleston Ice Cream, Red Kuri butter, kale, garlic, oats, hemp
2nd Course
Tempura Diver Scallop, black garlic puree, pickled kumquat, orange blossom
3rd Course
Coal Kissed Mayazaki A5 Wagyu Beef, butter braised chanterelle mushroom, high proof truffle gravy, chives
Paired with Camp North End Honey Infused & Barrel Aged Montenegro Amaro
4th Course
Sparkling Vanilla Buttermilk Mousse, sponge cake, strawberry sofrito, powdered olive oil
Seating is limited, please register in advance.
Individual tickets available beginning August 14th: $90/per person
(Please note: We can only accommodate refund requests received at least 7 days prior to the event.)
Featured Culinary//Arts Collaborators:
Chef Vince Giancarlo
Vince began his culinary adventure in the Southern Outer Banks of North Carolina. There he was introduced to the freshest seafood in the state. In 2005, attended Johnson & Wales University in Charlotte, and graduated Cum Laude with an Associate's in Culinary Arts & a Bachelor's degree in Food Service Management. While in school, Vince worked for locally known chef Jason Pound, currently of Soul Gastrolounge, at his original establishments in Charlotte, Latorre's Latin American Cuisine and Aquavina Contemporary Seafood eventually assuming the role of Executive Chef at Aquavina at the age of 21. Over the next 5 years he would work as Chef de Cuisine and Executive Chef at Frank Scibelli's Mama Ricotta's and Cantina 1511, eventually becoming the Corporate Executive Chef for Cantina 1511 and opening its newest location in The Park Road Shopping Center, in 2014. In 2015 Vince was named Executive Chef of BAKU a Japanese restaurant in Southpark focused on contemporary Robata yaki and Sushi. Here he further developed a new understanding of advanced flavor profiling and exotic ingredients, like A5 Wagyu Beef, Sea Urchin and Truffles. Recently, Vince spent 6 months working with Chef Josiah Citrin and his team, at his 2 Michelin starred French bastion Melisse, in Santa Monica, CA as well as his Venice Beach concept Charcoal Venice.
Chef Mike Noll
Chef Michael Noll sports an impressive résumé that includes some of Chicago's finest restaurants. Growing up in Pittsburgh, Noll's earliest culinary influences were his grandparents and mother. Watching them cook for him is one of the first memories the chef has of food and cooking, and to this day, Noll considers his mother's food his favorite. His first professional experience happened by chance, when Noll was injured skateboarding and was made to get a job as a kitchen dishwasher by his mother, yet another way she managed to influence his career. Noll recalls chef and owner Michael Barbado as his first mentor during his time working in the kitchen at Peppercorns. The budding culinarian went on to work at Baum Vivant Restaurant in Pittsburgh, where he served as Sous Chef for two years under the tutelage of Chef Toni Pais. In 2006, Noll went to Chicago and landed at Moto, then one of the most cutting-edge restaurants in the country. He followed this with tenures at Butter, Trenchermen, and Powerhouse, the latter of which he was part of the opening kitchen staff. Next up for Mike was a stint at yet another highly touted Chicago destination, Schwa. Noll worked under the guidance of chef-owner Michael Carlson, whose passion and love for his craft was instilled in this young chef. He also helped open Jam with Chef Jeff Mauro, whom Noll considers a major influence in his career. He worked as Sous Chef at Jam for a year before making his way to Elate, a busy downtown hotel where he started as the Sous Chef until he took over as Executive Chef for two years. Mike wanted to get back into fine dining and landed a Sous Chef position at an underground dining club called Sous Rising where he worked along with chef Jake Bickelhaupt (former owner of the two Michelin-starred 42 Grams), and who he considers the most influential chef he has had the chance to work beside.
Tosco Music
It is our mission to present a wide variety of music through performances and outreach programs; foster a sense of community among listeners and performers; and connect professional and amateur musicians to share and inspire one another.
Born from intimate living room jam sessions in Charlotte, NC, Tosco Music Parties have grown into popular community concerts where nationally recognized acts share the stage with undiscovered artists and audience members are invited to sing along throughout the evening.
From concerts and open mic nights to music scholarships and outreach, Tosco Music is a 501c3 nonprofit organization dedicated to helping the community explore, develop and share their passion for music in all its forms.
In 2018, we celebrated 30 years of music parties and our 20th year as a nonprofit organization. The next Tosco Music Party is Saturday, September 14 at Knight Theater. Visit toscomusic.org for details.