About this Event
Camp North End presents
Next Plate: Pairings to ignite Charlotte's Culinary//Arts scenes
A pair of leading chefs from different culinary traditions will work in tandem with an arts organization to create an unforgettable dining experience. Those in attendance can expect the unexpected, along with a multi-course meal composed around visual and performing arts elements.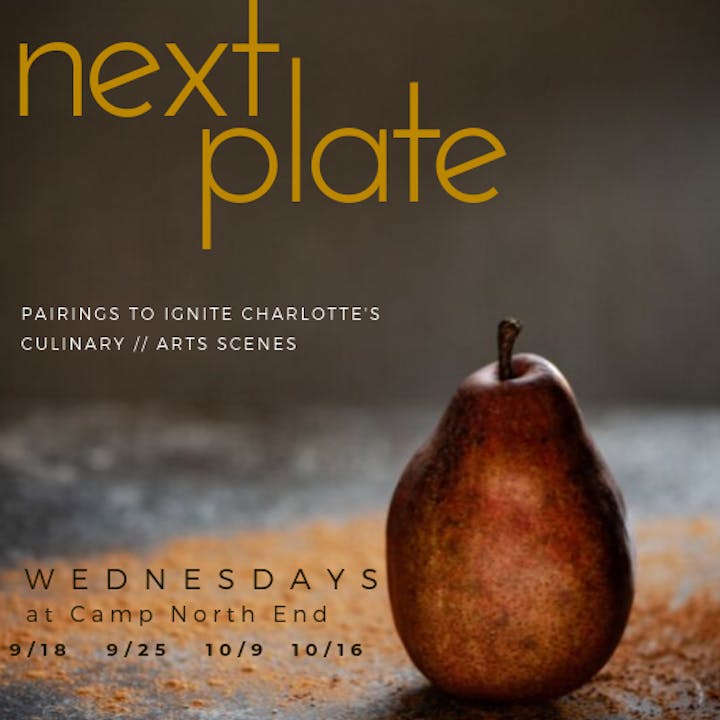 Full menu:To be announced 2 weeks prior to the event
Seating is limited, please register in advance.
Individual tickets available beginning August 14th: $90/per person
Featured Culinary//Arts Collaborators:
Chef Paul Verica
Paul is a native of Philadelphia, he received associate's degrees in Hotel & Restaurant Management and Culinary arts from Delaware County Community College and The Restaurant School at Walnut Hill College respectively. Paul staged for two Michelin Three Star chefs: Alain Passard of L'Arpege (in Paris) and the late Bernard Louisseau of La Cote D'Or (in Saulieu). Both stages bear heavy influences on Paul's cooking today. In 1998 Paul moved with his family to Charlotte in order to open The Duke Mansion, located in the Myers Park neighborhood. Paul then took the helm at Providence Bistro Restaurants', three locations as Executive Chef, following that, he became Executive Chef & Food & Beverage Director of The Historic Dunhill Hotel, in Uptown Charlotte, before accepting the position of Executive Chef at The Club at Longview, near Waxhaw, NC. Paul left Longview (with the additional title of Director of Food and Beverage) in 2012, and in 2013 opened his first restaurant, Heritage Food & Drink, in Waxhaw. Paul's close relationships with many local farms and farmers, cultivated during his years at Longview (where he had his own kitchen garden), became a driving force behind his meticulously sourced menus. The decision to close Heritage Food & Drink in the fall of 2017 was a difficult one, but the restaurant's small size and distance from many Charlotte neighborhoods necessitated a change. Construction began on The Stanley (housed in a 1937 building in the heart of Charlotte's Elizabeth neighborhood, formerly known as "Stanleyville") in early 2018. With custom millwork and original pressed tin ceilings, along with the etched glass featured in the restored storefront, the restaurant's décor reflects the modern, sophisticated, yet approachable cuisine that is Chef Paul's signature.
Mixologist Amanda Britton
Originally from New Jersey, Amanda Britton has been in the food and beverage industry for over 10 years, spending six of them shaking her way through the Queen City. Moving to Charlotte in late 2011, Amanda fell in love with craft beer as breweries were opening all around. A growing passion led her to work behind the bar of respected craft beer bars & then as a Sales Rep for Artisan Beverage Group. She was able to expand her knowledge of not only craft beer but also cider, sodas, & wine. The desire to expand her understanding of how these liquids were made only pushed her further to explore the world of spirits, vermouth, & bitters. A car accident in March 2016 put things into perspective, and she went back to what she truly enjoyed doing. Missing the feeling of being behind the stick, Amanda began showing the skills she had been acquiring while whipping up cocktails at home. She created signature cocktails while manager/lead bartender at 204 North in Uptown and consulting with Crowntown Collective, spreading spiritous learning through cocktail development, creative beverage catering, mixology classes, and brand spotlighting. Recently named NCRLA Mixologist of the Year, she loves to utilize lesser-known spirits with familiar flavors to help even the most skeptical drinker go out of their comfort zone.
Payne Dance