About this Event
Camp North End presents
Next Plate: The Colors of Fall
Seasonal fare with live fire cooking
A pair of leading chefs from different culinary traditions will work in tandem with an arts organization to create an unforgettable dining experience. Those in attendance can expect the unexpected, along with a multi-course meal composed around visual and performing arts elements.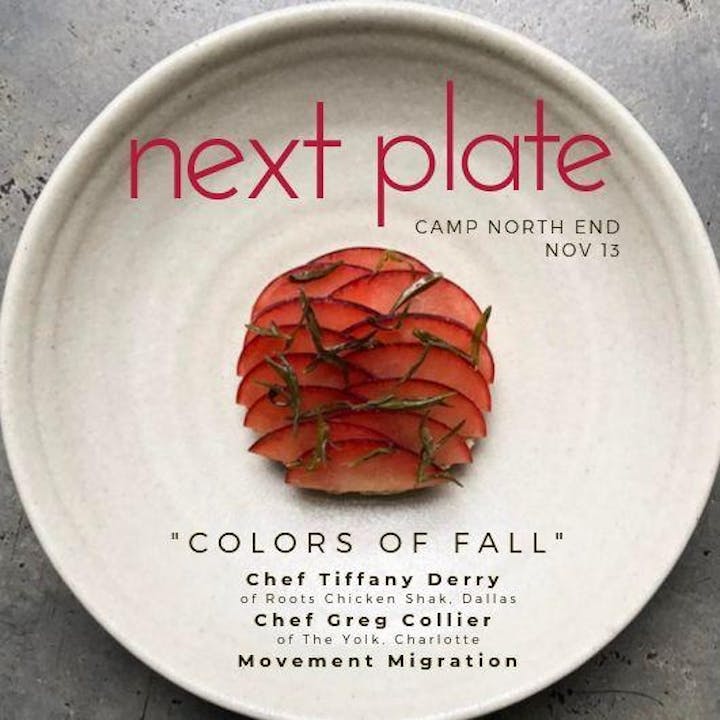 FULL MENU
Appetizers:
Fried shrimp and grit
Hot water blue corn bread, ham hock jam, pickled squash, popcorn butter
(Cold) Kampachi, Coconut, pickled chile, cilantro, ikura
(Hot) Lamb Belly - tankora spice, carrot & sweet potato pickliz, carrot sweet pot buerre monte
Main Course:
Wood Fired NC Black Grouper, Confited bone sauce, winter veg slaw, pickled shishitos
Sides:
Roasted Squash, Agrodulce Onions, Brown Butter, Pomegranates
Charred Cauliflower, Bagne Cauda, Stem Vinaigrette, Mint, Breadcrumbs
Dessert:
Arthur Lou – Tang tart, oatmeal crust, roasted sweet potato ice cream, granola
Drinks Pairings per course:
Beet infused Conniption gin, lemon & rosemary cordial, topped with prosecco
Chinese 5 spice infused rum, yellow chartreuse, carrot & tarragon shrub, ginger simple.
Reposado tequila, mezcal, pear & sage cordial, fresh lime, smoked salt.
Bourbon, apple cider, amaro, velvet falernum.
Seating is limited, please register in advance.
Individual tickets available for $90/per person
Featured Culinary//Arts Collaborators:
Chef Tiffany Derry (Roots Chicken Shak)
Tiffany Derry is the owner of Roots Chicken Shak, Roots Southern Table, Derrywear and Tiffany Derry Concepts, a company established to support Derry's business and culinary ventures. Derry gained International notoriety on the seventh season of Bravo's "Top Chef" and as a finalist on "Top Chef: All-Stars." Currently, Chef Derry is the reoccurring judge on "Top Chef Junior" on Universal Kids Network. She sits on the James Beard Foundation's Impact Advisory Board, as well as the Food Policy Action Board of Directors, and acts as an ambassador for the Beard Foundation's food waste initiative. She frequently travels to foreign countries as a culinary ambassador to the United States.
Chef Greg Collier ( Uptown Yolk and Leah & Louise)
Memphis native Chef Gregory Collier has always had a special place in his heart for food. His first real memories recall cooking beside his grandmother making butter rolls. She never revealed her recipe to him, but she left him with something more valuable: A desire to make people happy with good food. After a few years of college, Collier pursued work as a line cook, which is how he met his wife Subrina. They soon packed up everything and moved to Phoenix where he enrolled in the Scottsdale Community College Culinary Program. After receiving his chef's credentials, he opened the Monte Lucia Kitchen and became employed at the Phoenician Resort as a breakfast chef where he cultivated his breakfast foods techniques for a variety of palettes. He later worked as a chef at the Arizona Biltmore and the Westin Kierland. As a couple and business partners, Greg and Subrina moved to Charlotte. They purchased a diner for their first all-breakfast restaurant, The Yolk, in Rock Hill. As a chef for Soul Food Sessions – CLT, he continues to pour love into food and service just as his grandmother taught him years before. His latest concept, Leah & Louise, a Memphis-inspired juke joint, will be Camp North End's first full-service restaurant.
Movement Migration
Movement Migration is a collective of seasoned dance artists collaborating to create and perform dynamic and poignant dance works that portray the depths of the human experience; the dances are shared with audiences locally and globally in performance and educational venues. Directed by Kim Jones, the ensemble's members are steeped in the celebrated traditions of classical ballet and modern dance, each having achieved professional expertise in distinct technical training and performance disciplines. The group members come from many places in the world and span four decades in age. From these varied backgrounds, the artists bring their passions, freedom, and inexplicable beauty of expression. "Migration" signals the transformation and convergence of technical training and individual approaches into a collective creativity that traverses cultural boundaries and transfers movement knowledge from person to person and community to community.