Description
Camp North End presents:
Next Plate: Pairings to ignite Charlotte's Culinary//Arts scenes
A pair of leading chefs from different culinary traditions will work in tandem with an arts organization to create an unforgettable dining experience. Those in attendance can expect the unexpected, along with a multi-course meal composed around visual and performing arts elements.
Wednesday, April 3rd
Mexican + Southern/African Diaspora, featuring JoeDance Films
Chef Greg Collier (The Yolk) and Chef Hector Gonzalez (Project 658) will create a menu honoring their Southern/African Diaspora and Mexican heritages, respectively. They evening will include a spring lamb picking and films by JoeDance Film Festival that correspond to each chef's cultural identity.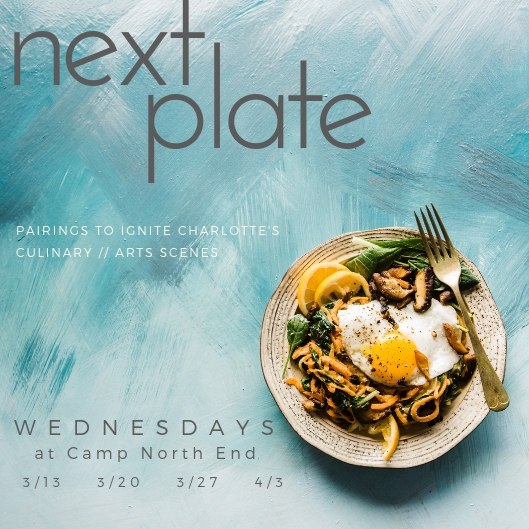 Full menu:
Lamb Picking: Lamb legs and shoulders picked, Lamb belly finished in the grill, Lamb ribs on the grill
Seasonal roasted vegetables
Strained buttermilk yogurt
Hibiscus agua fresca (contains alcohol)
Featured Culinary//Arts Collaborators:
Memphis native Chef Gregory Collier has always had a special place in his heart for food. His first real memories recall cooking beside his grandmother making butter rolls. She never revealed her recipe to him, but she left him with something more valuable: A desire to make people happy with good food. After a few years of college, Collier pursued work as a line cook, which is how he met his wife Subrina. They soon packed up everything and moved to Phoenix where he enrolled in the Scottsdale Community College Culinary Program. After receiving his chef's credentials, he opened the Monte Lucia Kitchen and became employed at the Phoenician Resort as a breakfast chef where he cultivated his breakfast foods techniques for a variety of palettes. He later worked as a chef at the Arizona Biltmore and the Westin Kierland. As a couple and business partners, Greg and Subrina moved to Charlotte. They purchased a diner for their first all-breakfast restaurant, The Yolk, in Rock Hill. As a chef for Soul Food Sessions – CLT, he continues to pour love into food and service just as his grandmother taught him years before.
Chef Hector Gonzalez was born in Los Angeles and later moved with his family to Huntsville at age 13. He came to Charlotte to attend culinary school at Johnson & Wales University during the day and worked at the Dunhill at night throughout his schooling. He later became Sous Chef at the Asbury before his work with the launch of Comida in Plaza Midwood. Hector operated Comida as Head Chef for 2 years before becoming Catering Chef at Project 658, a holistic non-profit ministry in East Charlotte that provides recourses for immigrant and refugee families in the area. Be on the lookout for Little Chile, his local food pop ups highlighting Mexican food.
JoeDance Film Festival is held annually in Charlotte during the first weekend of August. Hosted at the Charlotte Ballet's Center for Dance in Uptown's Historic Fourth Ward, the event honors the late Joe Restaino and raises awareness for pediatric cancer research. The films screened are all connected to North or South Carolina in some way.
Seating is limited, please register in advance.
Earlybird sweetheart tickets available through February 19th: $95/pair
Individual tickets available beginning February 20th: $60/per person