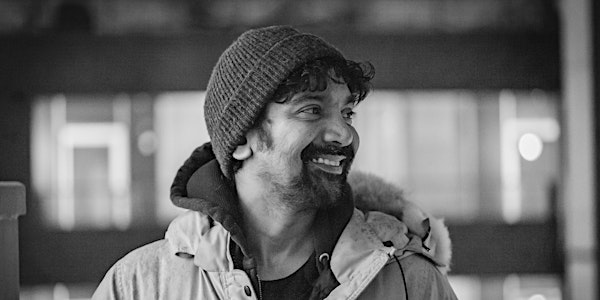 Next Page Press Celebrates Hari Alluri's Our Echo of Sudden Mercy
Next Page Press celebrates the release of Hari Alluri's chapbook Our Echo of Sudden Mercy. Wed., Nov. 9. at 6 p.m. Pacific/8 p.m. Central.
About this event
Register to join Next Page Press as we celebrate the release of Hari Alluri's chapbook, OUR ECHO OF SUDDEN MERCY. Hari will read his poems and will be joined by the following musical and literary friends. We can't wait to see you.
OUR ECHO OF SUDDEN MERCY is on sale HERE
Hari Alluri (he/him/siya) is a migrant poet of Filipinx and South Asian descent living and writing on unceded Coast Salish Territories of the Musqueam, Squamish, and Tsleil-Waututh peoples and Kwantlen, Katzie, Kwikwitlem lands of Hən̓q̓əmin̓əm̓ speaking peoples. He is author of The Flayed City (Kaya), Carving Ashes (CiCAC/Thompson Rivers), and chapbook The Promise of Rust (Mouthfeel). Writer-director of Pasalubong: Gifts from the Journey (NFB/ONF), co-editor of We Were Not Alone (Community Building Art Works) and co-founding editor at Locked Horn Press, siya has received grants, fellowships, and residencies from the BC Arts Council, Canada Council for the Arts, The Capilano Review, Deer Lake, Martha's Vineyard Institute of Creative Writing, VONA/Voices, and others. His work appears through these venues and elsewhere: 1508, AALR, Apogee, Four Way Review, Marías at Sampaguitas, Poetry, PRISM International, Witness, and—via Split This Rock—Best of the Net 2022.
Vancouver-based artist Khari Wendell McClelland, originally from Detroit, has over the past decade become a darling on the Canadian music scene for his distinct mix of soul and gospel. Since 2016, Freedom Singer – a multidisciplinary work of theatre, history, and music – has had a life on stage, in concert, on television, on radio, in an album, and now in publication. Its live iteration has had three Canadian national tours. A much sought-after facilitator and teacher who is co-author of Moving the Centre (Talon Books, 2022), Khari leads workshops around the globe fostering community, the arts, and justice through values-based creative facilitation.
kimmortal is a queer nb filipinx multihyphen8 artist superstar inspired by spirit world, qtibipoc stories, and their chosen fam. their latest single drops on nov 9 at 12am. find them at @kimmortaltheartist or kimmortalportal.com
Faisal Mohyuddin is the author of The Displaced Children of Displaced Children (Eyewear Publishing, 2018) and the chapbook The Riddle of Longing (Backbone Press, 2017). The recipient of an Illinois Arts Council Literary Award, Prairie Schooner's Edward Stanley Award, and a Gwendolyn Brooks Poetry Prize, he teaches English at Highland Park High School in suburban Chicago and at the School of Professional Studies at Northwestern University, and he serves as an educator adviser to the global-not-for-profit Narrative 4. He lives in Oak Park, Illinois.
Les Groove is the cutest DJ Duo you haven't met yet. Though recently formed, DJ Holla Holly & Wundrkutie have been rockin the ones and twos with the TableTutors community together for years. Holly can be found around the city as the Resident DJ at the Lamplighter on Saturdays and regularly guesting at spots such as the Diamond, Coldtea and Cinema. Niki is often seen at Coldtea and DD Mau and—in her healing artist work—as a co-founding member at Ikapati Studio. You can catch Les Groove live-streaming on Twitch on weekends, as well as at the next event you book them for. @djhollaholly @wundrkutie Holly's twitch, where they spin on weekends live: https://www.twitch.tv/dj_hollaholly?sr=a