Description
Below are the details from our last murder mystery dinner to give you an idea of what to expect. The next one will be a different storyline and cast of characters. Reserve your seat now by RSVPing. The full ticket price will be announced in September 2017.
+++
Join us for a night of good food, good company, and murder solving!
Welcome to La Speranza Restaurant.
Poor Pepi was killed in the kitchen! Who is the culprit? Was it Pepi's wife, Rosa? Was it Angel, Pepi and Rosa's daughter? Or was it Marco, Pepi and Rosa's son? There are at least a dozen other people that it could be. Put your Sherlock Holmes cap on and start solving!
What you're in for...
This is an event where dinner is on the menu, but so is a mystery that you will be a part of. It's a cross between pop-up restaurant and Sleep No More (minus the masks). Each attendee will have a role in the performance, though some would be classified as 'bit parts.' Want a bigger role? Just ask... We will try to accomodate your wishes. Ultimately you're in for a nice Italian family meal where no one is who they really are!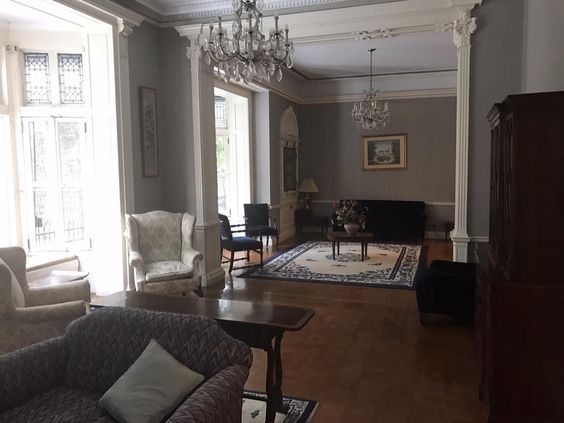 The Parlors, Burns Hall
What's on the menu?
Antipasto, Sauteed Mushroom Salad
Caprese Pasta Salad
Baked Ziti
Chicken Parmigiana
Eggplant Parmigiana
Mocha Cake
Tiramisu Cake
Cannoli
Wine (or something close to it)
**Menu items subject to change
How it works...
This event is sponsored by the Hospitalented chapter and Chapel Players at St. Joseph's College, held in a historic mansion in Clinton Hill, Brooklyn. You'll receive your character info a few days before the event so that you can put together your outfit and practice your accent perhaps... Awards will be given to those who really go for it!
The ticket price covers everything, no gratuity. You will not go home hungry, and likely will have leftovers :)
You solve the mystery, you win the prize!
****St. Joseph's College Students are reimbursed with their $10 payments at door.****