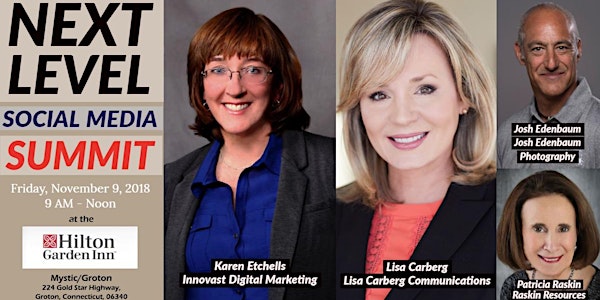 Next Level Social Media Summit
When and where
Location
Hilton Garden Inn Mystic/Groton 224 Gold Star Highway Groton, CT 06340
Refund Policy
Refunds up to 7 days before event
Description
The Next Level Social Media Summit is not a beginner's introduction on how to use social media. Most business professionals are already active on these platforms to some extent. Here, we will cover how to craft charismatic content that can be distributed through social channels — content that is designed to take your business to the next level.

The Next Level Social Media Summit will offer sessions led by experienced content creators who specialize in copywriting, photography, audio, and video formats. Understanding how to use different forms of media is essential to making memorable connections with today's target audiences.



Sessions
---


CONTENT MARKETING ON SOCIAL MEDIA
Karen Etchells is a Digital Marketing Strategist who has been working in website design and development since 1996. With Innovast Digital Marketing, Karen provides web design and content marketing services, including social media management, email marketing, blog writing, reputation management and search engine optimization (SEO).

Karen helps businesses to be highly competitive online — to better position themselves on the web, increase engagement with their current client base and attract new opportunities for greater sales. Karen crafts content that builds on that 'know-like-trust' factor and invites contact.

In this session, Karen will explore posting strategies for greater levels of engagement with followers and how to measure, expand upon, and follow up on that to gain momentum.

Topics to be covered are:

How to tweak your social profiles to generate leads

Identifying, creating, and delivering content your audience is seeking

Using an editorial calendar

Relationship building on social platforms

Testing ads on social platforms

Tools to gauge results

Techniques to create momentum

At the conclusion of Karen's presentation, each attendee will receive a digital marketing checklist to ensure you have your bases covered!

Today's technology allows for deeper online experiences with imagery, sound, and movement. That's why we have brought in professionals with expertise in each of these key areas.

VIDEO
Lisa Carberg is a communications and public relations professional in Connecticut. Her career has spanned 20 years as a television news anchor and reporter, both locally and nationally. During her corporate public relations experience, Lisa learned to work with a top team, producing high definition corporate videos, television commercials, and social media videos. She facilitates Facebook Live interviews with her clients. She also assists clients with talent coaching, helping them to feel more comfortable with speaking and being interviewed. Lisa knows how to hone a message and brand to make it interesting, appealing and easy to understand.

Lisa will give advice on how to be comfortable in front of the camera. Learn how to overcome technical obstacles that can prevent you from looking professional. Lisa will share some tips on how her Facebook Live appearances have been successful in growing the number of views and how she engages an audience.

Details to be covered include

A review of inexpensive products that will enhance your video quality, content and your confidence

What equipment to use — wireless options for newer phones, tripods, and microphones

Understanding body language, talking with your hands, and projecting confidence in front of the camera
Lisa will also share insight into boosting and targeting Facebook Live videos to reach beyond those who already follow your page.
Lisa will answer questions and offer firsthand assistance for those in attendance who wish to start using Facebook Live or take their Facebook Lives to the next level.

IMAGERY
Josh Edenbaum is professional photographer with Josh Edenbaum Photography. It is a full service commercial photographic studio, specializing in product, people and architecture photography. He has been creating images for 28 years for various clients all over New England. Josh is also an FAA certified Drone Operator.

Josh's session will provide an understanding of various options when it comes to representing your products and services online. He will show comparisons of how products are photographed

with an iPhone

by an amateur photographer

professional images with retouching and quality lighting
Josh will also discuss image files and formats and the different quality and uses for each. He will explain how a professional uses his or her skill set to create stunning images for any industry.

PODCASTS
Patricia Raskin is an award-winning media producer and business owner. She is a veteran radio broadcaster and podcast host, producer, and coach. Her programs have aired on NPR, FOX PBS, and Cumulus Broadcasting affiliate. Her internet and podcast program can be heard on VoiceAmerica.com, iTunes, and stitcher.com

Patricia's session will cover

How podcasts can be an effective branding tool for your business

Steps to starting your own podcast series

Understanding what good content is

How to expand your podcast audience through social channels
Marketing a business online is ever-changing with new trends, techniques, and best practices. You might hear about new ways to promote your business on the web, but you know you need to invest your time and money wisely. Rather than taking a hit or miss approach, spend a morning with local experts to bring you up to speed!