About this Event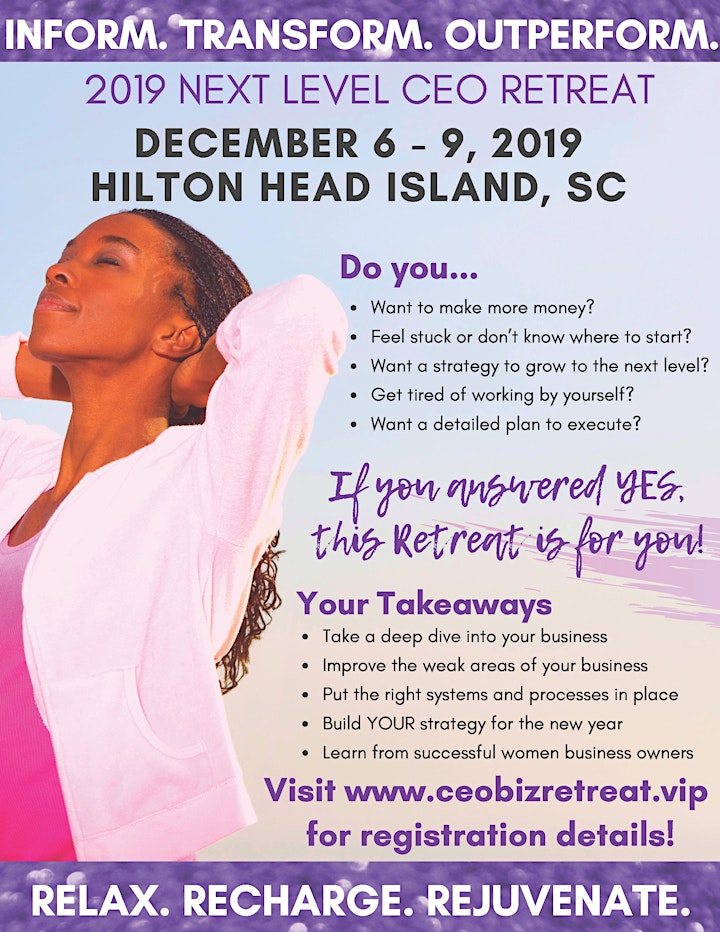 Next Level CEO Retreat™ is an exclusive event and draws women business owners devoted to growing their business by creating an effective strategic plan, improving their processes/systems, learning successful sales strategies, and access to coaches to help with their mission.
This retreat was designed to bring CEOs serious about growing their established business to the next level. This is not a conference of speakers and leaving feeling energized but later learning you now have to figure it out by yourself. This extraordinary retreat provides the unique opportunity to work on YOUR business strategic plan in real time, develop your blueprint to grow and execute your business with help.
Join this exclusive group of women business owners at the annual Next Level CEO Retreat™. This is not your ordinary retreat…it is a strategic planning on steroids. Come ready to take a deep view into your business, close 2019 strong, build your strategy for 2020, hear from successful women business owners, and gain from an advisory board ready to help you succeed.
Want to make more money?
Feeling stuck in your business or don't know where to start?
Don't have a strategy to grow to the next level?
Tired of working by yourself?
Want a detailed plan to execute?
$499 Early Bird Registration ends October 1 (Save $200)
$699 Regular Registration
Registration fees are nonrefundable. McPherson, Berry & Associates, Inc is not responsible for any loss or damage as a result of a substitution, alteration or cancellation/postponement of an event. McPherson, Berry & Associates, Inc shall assume no liability whatsoever in the event this conference is cancelled, rescheduled or postponed due to a fortuitous event, Act of God, unforeseen occurrence or any other event that renders performance of this conference impracticable, illegal or impossible. For purposes of this clause, a fortuitous event shall include, but not be limited to: war, fire, labor strike, extreme weather or other emergency.