Description
Choose 6 out of 7 classes EARLY BIRD: $65.00 DAY OF SHOW: $85.00
BACK TO THE FUTURE: A Design Essentials Salon System product knowledge class. You will learn about our new Sleek Play collection and trendy styling tips. We will also discuss t h e re la xe r ba si cs, maintaining the health, strength and integrity of your c l i e n t s h a i r w h i l e incorporating The Design Essentials Salon system.
The Journey to Natural: the time is now to keep our natural clients coming to the salon. Don't let YouTube be the new professionals in the fastest growing segment of our industry. Learn how to take a client from the big chop, or transitioning, to having a strong head of natural tresses, and everything in between. Sure to transform your business and more. You will be introduced to: the MIZANI Natural Curl Key and the products that best service each type. The NEW MIZANI True Textures portfolio. Proper consultation skills, and strategy to support the natural customer. When to advise a client to make the "big chop", or how often to get a trim. When to begin your client on the journey of transition and the services to support it. Creative styling for textured hair (up-styling, protective styling, lacer sets or twist sets).
Olaplex is a Bond Modifier that dramatically eliminates breakage from chemical services and leaves hair feeling amazing! Grow your business! Learn how to use Social Media for big profits!
This is the class that will unlock the three (3) secrets to producing and maintaining healthy hair. We are so confident that this class will leave you #phazedandamazed that it comes with an education guarantee. You have heard about the pH3B phenomenon, now come witness it for yourself. pH3B is the product line that is sweeping the Southeast. Smoothing systems that take less time, cost less money and leaves the hair moisturized! It's in there! Blow-Outs and Silkening Treatments that eliminate frizz, block humidity and instantly strengthen and moisturize hair! Yeah we got that too. Want healthier relaxers with little to no irritation? We got that! A hydration system that instantly repairs and moisturizes hair while leaving it sooo soft. Yeah, that's what you'll see at this class.
It's 2017 and many African American women are experiencing hair loss like never before and they don't know what to do or where to turn to help them with their problem. They visit the salon and the stylist recommendation is a weave which is just a cover up and not the solution. According to the American Academy of Dermatology, about 30 million women in the United States suffer from hair thinning & hair loss and 70% of those women are African American. This class will cover topics such as: Trichology 101 • Hair & Scalp Analysis • Proper client consultation • Hair Crainial Prostesis services • Proven Social Media Marketing • Shelf Employment • Latest Hair Makeup techniques • And More. A Must See Symposium. NOURITRESS HAVE THE ANSWER! Come get the answer.
Re-invent your hair! Advanced Coloration is a hair line that has not only transformed the hair color industry, but it will also transform your smoothing hair. Using a newly specialized formula, it will leave your hair shiny, sleek, conditioned and healthier than ever before. Come find out how Advanced Coloration & Ph3B works together.
MARCH 12TH | BJCC NORTH HALL | BIRMINGHAM, AL presents Join us for NEXT LEVEL/BOSS MOVES CLASSES SUNDAY, MARCH 12, 2017 9 A.M.—5 P.M. BJCC NORTH HALL Birmingham, Alabama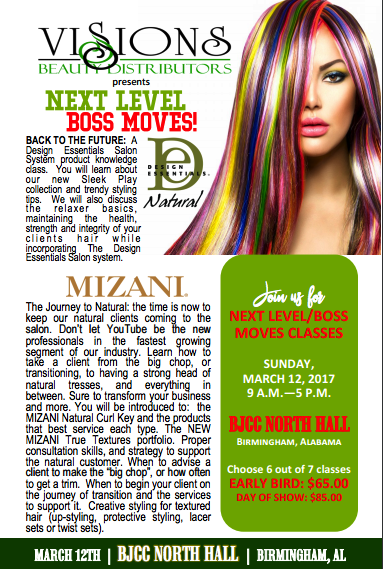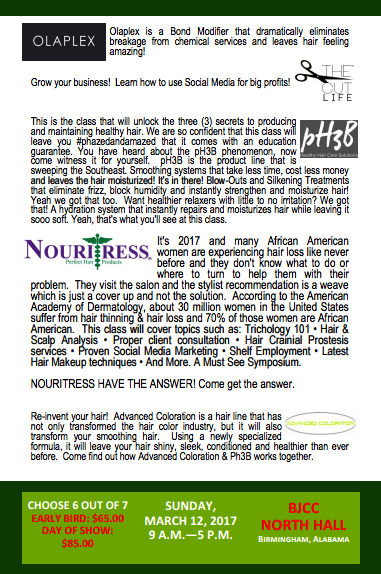 Date and Time
Location
BJCC North Hall
2101 Richard Arrington Junior Boulevard North
Birmingham, AL 35203