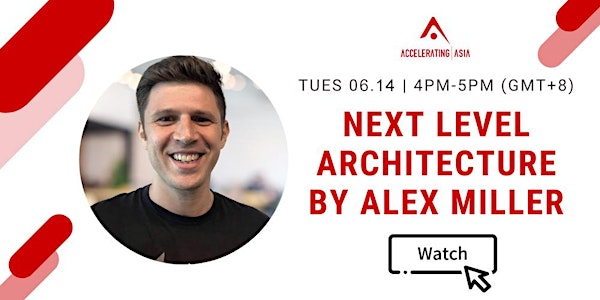 Next Level Architecture by Alex Miller
Join the Accelerating Asia team for an inside look into our flagship accelerator with our Entrepreneur in Residence Alex Miller.
About this event
Alex Miller will give a primer on today's hottest tech tools for Early Stage CEOs, CTOs and startup stakeholders.
Improve decision making by understanding code, nocode and lowcode options for your for startup's iterative architecture.
About Alex
Alex Miller is an entrepreneur and former CTO of GetCraft.com, South East Asia's Premium Creator Network. Originally from New York City, Alex got his start in NYC's Silicon Alley in 1999. Later, he spent 10 years in Beijing where, as Product Manager for Advertising, he helped Renren.com go from $5m to $50m in annual advertising revenue and achieve an IPO on the NYSE.
Since then Alex has cofounded 4 startups in video, marketing technology and chat. He has worked as an Entrepreneur In Residence at 500 Startups in San Francisco as well as Head of Product at creadits.com in Singapore.
About Accelerating Asia
Accelerating Asia is an accelerator VC that runs programs for early-stage startups and investors. Licensed by the Monetary Authority of Singapore, Accelerating Asia's early-stage VC fund focuses on pre-Series A startups with untapped potential that are 6-18 months away from institutional funding. Accelerating Asia invests up to US$250,000 in pre-Series A startups, and the current portfolio covers over ten countries in Southeast and South Asia.
While most angel investors and startup programs in the region focused on ideation-minimum viable product stage startups, and venture funds focused on solid product-market fit, startups with a robust product at early stages of customer traction are often overlooked. That is where Accelerating Asia comes in. Our accelerator and venture capital model is designed to support pre-Series A startups to fast track growth and drive success, unlocking the potential in them.
At the core of the work we do is the guiding belief that entrepreneurs are one of humanity's  greatest catalysts for positive change.