Next Generation Solid State Storage Conference

Wednesday, August 14, 2013 from 8:00 AM to 5:00 PM (PDT)
Event Details
A Complimentary Event for IT Professionals
Spend a Day Learning More About Solid-State Storage Than You Could Learn in Months on Your Own.
Everyone agrees that solid-state disk/flash is the future of enterprise storage, but when is the right time and for which applications is it appropriate?  Come learn everything you need to know about solid-state/flash storage in this exclusive, complimentary one-day event. Breakfast, lunch and cocktail reception are all included.

By attending, you will learn:
Which types of flash are best suited for which applications.
The truth about failure rates.
How your colleagues are using SSD/flash in production and the challenges/success they have had. 
 Where SSD/flash is headed and how it will affect your IT infrastructure plans.
Top I
ndependent Experts At Your Finger Tips
With 100 end user attendees, you will have ample time to speak one-on-one with the top independent experts on solid-state disk/flash, including:
Anil Vasudeva, IMEX Research

Benjamin Woo – Managing Director, Neuralytix

Chris Preimesberger, eWeek, Associated Press

George Crump, Storage Switzerland

Eric Slack, Storage Switzerland

Rich Castagna – TechTarget, Storage Magazine

Joe Unsworth, Gartner

Dave Reine, The Clipper Group

Jim Bagley, SSG NOW

Ray Lucchesi, RayOnStorage.com

Jo Maitland, GigaOm Pro

Dan Iacono, IDC

Mark Peters, ESG

Enrico Signoretti, Juku.it

John Webster, Evaluator Group

Howard Marks, NAOL, Network Computing

Plus more being added every day
Excellent Networking Opportunity
Your colleagues from companies using some of the most cutting edge technologies available will be there to interact with.  Come learn from your peers, make connections, and find out how they are using SSD/flash in their production environments.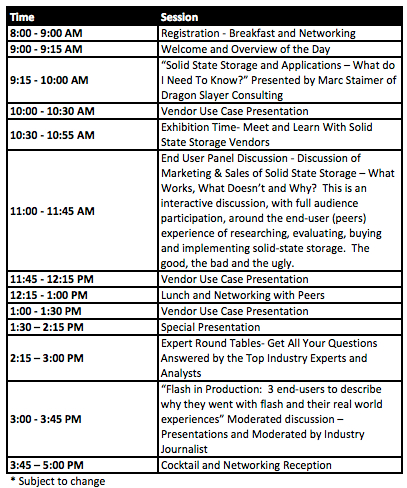 By registering for this event, you agree to allow your contact information to be provided to the sponsors and/or partners in return for complimentary admission.
Sponsors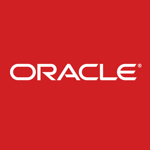 Organizer
The ExecEvent
Our mission is to create a compelling networking event for industry insiders—one that focuses on networking and building relationships. The networking event will provide educational speaking topics and a spotlight for emerging products or companies (where appropriate), as well as plenty of time available for your own meetings as you see fit.
Next Generation Solid State Storage Conference