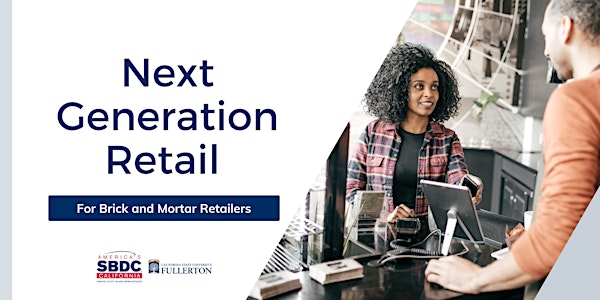 Next Generation Retail - A Program for Brick and Mortar Retailers
A four week training series for Brick and Mortar retailers.
About this event
Thursdays : September 15, 22, 29 and October 06
9 AM - 11 AM
Next Generation Retail is a program offered by the CSUF SBDC with the goal to assist brick and mortar retailers break through challenges and focus on growth opportunities. The traditional retail model has been forever altered due to COVID; from connecting goods and services with customers, to integrating new technologies which enhance the clients' experience and streamline the businesses' efficiency. Through this program, business owners will have the opportunity to get into their business; assessing growth, financial health, marketing, leases, hiring, operations, technology, and a variety of best practices, with the goal of focusing on decreasing cost and increasing revenue. Participants will also learn how to de-risk expansion and get involved in proactive growth.
Who should attend?
Brick and mortar retailers who meet the following criteria:
Been in business 1+ years
Have employees, or need to add them
Poised for growth
Selling products and/or services
Operating a store front/brick and mortar location
Why attend?
Set a plan in motion to grow your business
Evaluate challenges that may be holding you back from growing
Learn about latest resources to set your business up for success
Assess multiple channels for growth
Schedule:
Week 1 - September 15:
What does growth mean to you?
Identify key drivers of growth
Review key financial reports and ratios
Set KPI's and success indicators
Week 2 - September 22:
Customer segmentation, conversion and retention strategies (sales funnel)
Competitive analysis
Digital marketing & social media (GMB, Local SEO, etc…)
Creating a unique, memorable & authentic customer experience
Week 3 - September 29:
Internal operations
Your supply chain
Inventory/project management
Merchandising and messaging
Technology and data
Week 4 - October 06:
Your workforce
Site selection, tenant improvement issues, contracts and leasing
Financial and sales projections
Strategic growth plan
** Emails to participants will go out after registration closes on 9/14 and will include the course access link.