Description
Thank you for your interest in this event; registration is currently full! Sign up as a community member (it's free!) of the Minneapolis Parks Foundation to have first acccess to events like this in the future.
In Detroit, parks and public space are at the intersection of design and social justice.
Join us for an extraordinary evening with one of the foremost choreographers of urban re-creation, MAURICE COX, Planning Director, City of Detroit.
Featuring Minnesota Public Radio's Brandt Williams and a presentation by Juxtaposition Arts youth designers

You're invited to join the Minneapolis Parks Foundation and Minnesota Public Radio for an extraordinary evening featuring nationally renowned planner and practitioner of democratic design and citizen planning: Maurice Cox. As Planning Director for the City of Detroit, Cox is leading a dramatic transformation that finds parks and public space at the intersection of design and social justice.
Minnesota Public Radio's Brandt Williams will interview Cox before inviting the audience into the conversation. Youth design apprentices from Juxtaposition Arts will open the event with a short presentation of design ideas for future Upper Mississippi riverfront parks, along with a brief video about the students' work this past summer exploring north Minneapolis's connection to the Mississippi River.
"Citizen planning and democratic design brings new voices to the table and uncovers creative solutions for shaping our communities' future," notes Tom Evers, Executive Director of the Minneapolis Parks Foundation. "Through the Next Generation of Parks events, we aim to reimagine urban public spaces and raise expectations for Minneapolis and the region. Mr. Cox has been a national leader in urban planning while tackling some of the most daunting challenges facing American cities and there are lessons we can learn though his work."
About Maurice Cox

Maurice Cox is an urban designer, architectural educator and former mayor of the City of Charlottesville, VA. He most recently served as Associate Dean for Community Engagement at Tulane University, School of Architecture and Director of the Tulane City Center, a university-affiliated practice operating at the intersection of design, urban research and civic engagement throughout the New Orleans community. Cox has taught at Syracuse University, the University of Virginia and Harvard University's Graduate School of Design. His experience merging architecture, politics and design education led to his being named one of "20 Masters of Design" in 2004 by Fast Company Business Magazine. He served as Design Director of the National Endowment for the Arts from 2007-2010 where he led the NEA's Your Town Rural Institute, the Governor's Institute on Community Design, the Mayors' Institute on City Design, and oversaw direct design grants to the design community across the U.S. In 2013, Cox was named one of the Most Admired Design Educators in America in the annual ranking of Design Intelligence.
2016-2017 Season Highlights
This season, the Minneapolis Parks Foundation explores the themes of bridge-building, water and play through the insights of Iranian architect Leila Araghian, creator of the Tabiat "Nature" Bridge, designer Mark Johnson, co-founder of Civitas, Inc., and parenting expert Janet Lansbury, author of Elevating Childcare: A Guide to Respectful Parenting. Please visit our website for additional information and sign up for our newsletter to receive Member Pre-Sale ticketing.

---
The 2016-2017 Next Generation of Parks™ season is made possible through the generosity of the following sponsors and partners. Thank you!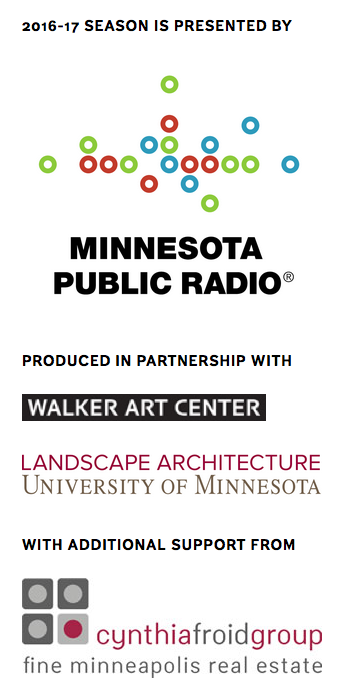 ---
ASLA-MN Professional Development Hours
The Minnesota Board does not pre-approve courses and activities, however to the best of our knowledge this event meets the continuing education requirements outlined in MN Statute 326.107. Final discretion is up to the Board.