About this Event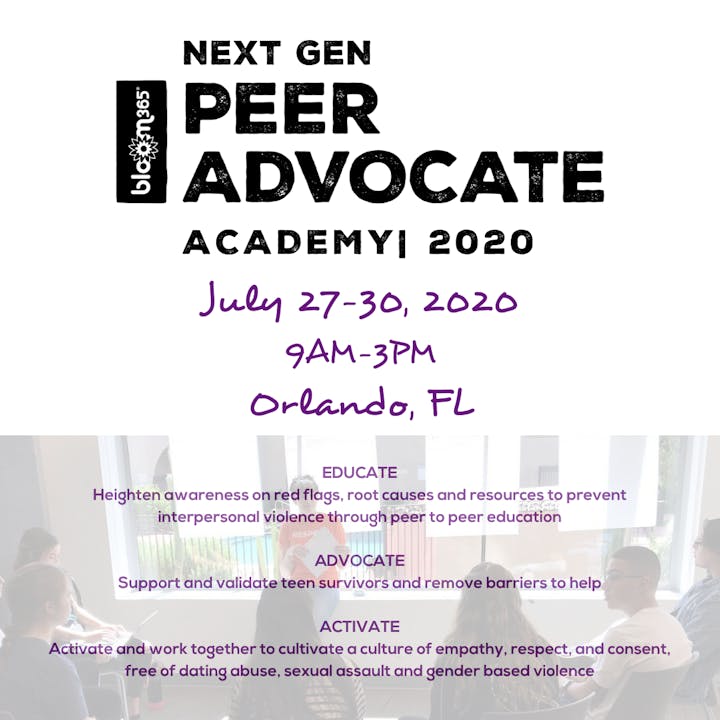 Bring your Teen to Work at the 2020 NOVA Annual Training Event!
BLOOM365 is thrilled to once again partner with NOVA to bring our Next Gen Peer Advocate Academy to the Annual Conference.
Day 1: EDUCATE
Learn the characteristics, symptoms, and root causes of healthy v. unhealthy relationships and ways to remove the barriers to help for teens who have experienced, witnessed or perpetrated interpersonal violence.
VIDEO: 2019 EDUCATE Day Highlights
DAY 2: ADVOCATE
Gain new skills for supporting and validating teen survivors and engage in peer to peer conversation on how to remove barriers to help for young people.
VIDEO: 2019 ADVOCATE Day Highlights
DAYS 3 & 4: ACTIVATE
Build community by activating peers and trusted adult allies to work together to cultivate a culture, free of dating abuse, sexual assault and gender based violence
Young people who attend the Academy leave with a greater understanding of the root causes of interpersonal violence and skills to intervene and prevent these experiences, peer to peer.
OUTCOMES:
This experience also provides 13-19 year old Next Gen Advocates with a safe space to cultivate their leadership skills and develop their unique leadership style. Though qualitative and quantitative outcome measures, we expect the Lead Peer Advocate experiences to reflect the following:
1. More familiarity with how to support peer survivors of interpersonal violence (teen dating violence, sexual violence, domestic violence, gender based violence, cyber-stalking, etc.)
2. A decrease in tolerance of violence
3. More empathy and respect for others
4. An increase in peer-to-peer support
5. An increase in community awareness and involvement
6. An increase in self-esteem and self-awareness
7. More confidence in leadership abilities
8. Enhanced communication, conflict resolution, and healthy relationship skills
IMPACT TESTIMONIALS
One 17-year-old from Surprise AZ stated the following regarding her experience at the Academy:
"Having the opportunity to educate my friends through the 7-Doses has helped me form deeper connections with my peers and made me more aware of the hidden issues plaguing teens"
Another 18-year-old from Glendale shared:
"I chose to be a Lead Peer Advocate in order to activate and amplify the voices of my peers to create a future that supports healthy masculinity, free of sexual violence."
VIDEO: Peer Advocate Jaida had this to say about her experience...