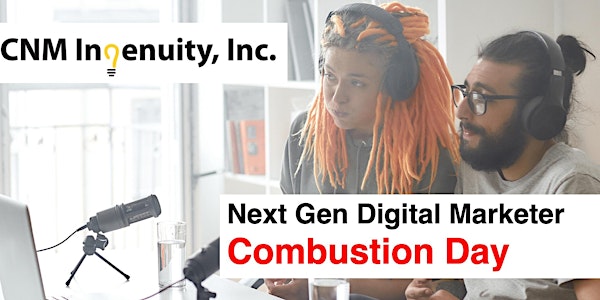 Next-Gen Digital Marketer: Content Marketing Combustion Day
Get hands-on experience in content and digital marketing
About this event
Next Gen Digital Marketer: Content Marketing Combustion Day*
Workshop Leader: John Bell, President NextNow Digital
Join us for a 1-day, immersive, online workshop on content marketing. This hands-on session will allow students to work on real projects and practice their skills working with content as part of a digital marketing program to acquire and retain customers.
Content marketing earns the attention of prospects and customers and lies at the heart of many digital marketing programs. Marketers mine search data to understand the questions people have and then create compelling content to earn their attention, trust and their business.
This session will start with a real client brief and allow teams of students to collaborate and work with content to improve a marketing program.
Students will:
Build a content marketing strategy based upon search and other insights
Draft a content production and publishing calendar
Create compelling articles and videos
Produce high-performing social promotions for content
Evaluate the marketing and business impact of content marketing
About John H. Bell, President & Chief Strategist at NextNow Digital
John brings the best lessons of more than 25 years innovating via digital practices. He has delivered next-gen digital marketing strategy and programs to the best-known, global brands including The Ford Motor Company, Nestle, American Express, Unilever and Travelers Insurance. He lives in Albuquerque New Mexico where he serves on the board of Presbyterian Health Plans, the premier health insurer in the state.
*The Combustion Day is a part of CNM's Next Gen Digital Marketer Certificate program which gives students the most in-demand skills and experience for today and tomorrow. Students are automatically admitted to this series.