NEXT FASHION CHICAGO 2012 - An Official Fashion Focus Chicago Show
Location
Germania Place
108 W Germania Pl
Chicago, IL 60610
Description
Mandel Productions along with Marco Foster
present
NEXT FASHION CHICAGO 2012

Tuesday, October 16, 2012
at
Germania Place
(The Gold Coast's premiere venue location)
108 W. Germania Place, Chicago, IL 60610
(One block South of North Ave. and right off Clark Street)
- Street parking , Taxi service and James/Kilmer underground parking garage

- Nearby to two Bus Stops on the corners of North Avenue & Clark Streets
- Nearby to the El Train at Clark & Division Streets (Red line) and North & Sedgewick (Brown line)

VIP Cocktail Reception 6:30 - 8:00 PM
Fashion Show 8:00 PM
After-party 9:00 - 10:30 PM

Next Fashion Chicago 2012 is a spectacular celebration of Chicago fashion!
A full-scale theatrical style runway presentation within a European style setting,
filled with surprises for our guests! Featuring the city's finest designers,
complimented by several fashionable stores and boutiques.
Next Fashion Chicago 2012 is a proud supporter of PAWS Chicago,
donating a portion of the event's proceeds. There will also be a
special PAWS Chicago presentation during the show.
Hosted by: Marcus Riley & Candace Jordan
Red Carpet Host: Marco Foster

Featured Collections:
Akira

Cleons Clothing Co.

Contessa Bottega

Cory Tran

Fraley Le

Gary Gonzalez

Mark Roscoe Design

Meekis

Mira Couture

Sahar Dada

Studio Alade

Just Human by Yemonja Smalls

HOST COMMITTEE:
• Ava Anthony
• Emma Arnold
• Elizabeth Bertucci
• Deborah Brown
• Cindy Burns
• Joli Burrell
• Daniella Cairo
• Rosemary Cairo
• Toni Canada
• Jennifer Christenson
• Jon Cotay
• DC Crenshaw
• Billy Dec
• JoAnn Fakhouri
• Rosemary Fanti
• Tyrone Farley
• Justine Fedak
• Stella Foster
• Rita George
• Deborah Goodman
• Skip Grisham
• Attila Gyulai
• Zingha Hester
• Paul Iacono
• Catie Keogh
• Barry Krause
• Julie Lampert
• Sherren Leigh
• Erica Bethe Levin
• Michi Marshall
• Micah Materre
• Thomas McElroy II
• Corri McFadden
• Kristina McGrath
• Katie McLenaghan
• Lynn McMahan
• Margaret J. O'Connor
• Ken Patrick
• Brittany Perris
• Crystal Peters
• Cesar Rolon
• Alicia Roman
• Arabel Alva Rosales
• Kerry Shorr
• Sally Shorr
• Jennifer Sutton
• Larry Wert
• Marisa Ceccotti-Winkler
• Amy Wimer
• Kelli Zink
• Jessica Zweig

- DIRECTED BY: Rose Mandel, Mandel Productions
- SOUNDTRACK: DJ Laura B
- LIGHTS/AUDIO-VISUAL: Soundz AVL
- BACKSTAGE MANAGERS/STYLISTS:
• Joseph House & Shawna House
- HAIR:
• Custom Hair Lounge +Spa
(Artistic Directors: Nevsy Zee & Tania Gilbert)
• Parto Nadari Salon & Spa
- MAKEUP: Brenda Arelano
• Kate Johnson
Special Appearances by:
Miss Illinois USA, Ashley Hooks & Miss Illinois America, Megan Ervin

- PR INQUIRIES:
Margaret J O'Connor
MarCon Communications
312 951 5050

Fashion Focus Chicago is a week long series of events showcasing
the city's top design talent. Presented by the City of Chicago's
Department of Cultural Affairs and Special Events (DCASE).
http://www.fashionfocuschicago.org

PAWS Chicago is the city's largest No Kill humane organization, focused

on implementing solutions to end the killing of homeless pets.
Since PAWS Chicago's founding in 1997, the number of homeless dogs
and cats killed annually has dropped more than 50%.
PAWS Chicago is working to build a No Kill Chicago—a city where pets

are no longer destroyed just because they are homeless.
PAWS Chicago will find new homes for more than 4,500 homeless pets in 2012
through the state-of-the-art Adoption & Humane Center in Lincoln Park.
The cageless Adoption Center provides homeless pets with the care and dignity
they deserve while welcoming adopters, providing them with guidance
in selecting their new pet and continued support for life.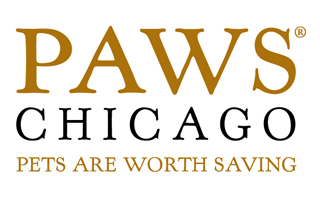 This event will sell out early! • All ticket sales are final.
Please visit our website for more details: www.nextfashionchicago.com

Facebook invite page: Next Fashion Chicago 2012-Invite

Facebook page: Next Fashion Chicago 2012-Official Page

Twitter: @NextFashionChi