Description
Join us for the 25th Annual STA Design Inspiration Weekend!
In contrast to a conference, the Weekend is an intimate event. It's a great way to meet new people or reconnect, to get invigorated, and to live it up or enjoy downtime.
This year's theme is NEXT:
What is next for you in design and typography?
Is there a significant client project? Is there a passion project?
Are there ideas from past projects that are influencing how you think and make?
Share your inspiration, research, and initial concepts.
Collectively, we will see the near future, or what's next, in design and typography.
There will be 10 and 20 minute presentation slots (unless otherwise arranged). To give a presentation and be included in the printed program, email the following to weekend@sta-chicago.org by Dec 27:• your headshot/portrait• the title and brief description of your presentation• an image from your presentation.
The Weekend keynote speaker is Neil Summerour, a Georgia-based type designer and lettering artist. He's the founder of Positype type foundry, and Swash & Kern lettering studio. Summerour draws letters, creates typefaces, workshops, talks every once in awhile, and then repeats the process over again. He's won the Type Directors Club Certificate of Typographic Excellence 6 times and was a 2012 recipient of the People's Choice Award in the Morisawa Type Design competition for his Japanese typeface, Tegaki. His type and lettering work is used by such renowned brands as Oculus, Facebook, Girl Scouts of America, Victoria's Secret, Revlon, PINK, Good Housekeeping, id Software, David Bowie, BBC, L'Oreal, Panera, Audible, Molson Coors, Colliers International, and ABC. He currently serves as Chair for the Society of Typographic Aficionados.
Many pricing options to fit every budget, including student, member and non-member pricing:
Full Weekend / $250–275 (includes all meals, details below)

Saturday Only / $70–220 (meal inclusions vary with pricing)

Friday Only / $80–99 (includes dinner)
---
Location:
Eaglewood Resort & Spa
1401 Nordic Road
Itasca, IL 60143
Room rate $99 per room, per night, if reserved by January 3rd. All rooms are subject to availability.
---
Schedule:
Friday, January 12th
5:00 to 6:15 pm Reception + check-in
6:30 pm Keynote address and dinner
9:00 pm Conversations continue in hotel lounge
Saturday, January 13th
8:00 am Continental breakfast kiosk
9:00 to 5:00 pm Presentations
12:30 pm Lunch
6:00 pm Dinner and bowling
Sunday, January 14th
8:00 am Continental breakfast kiosk
9:00 to 12:00 pm Presentations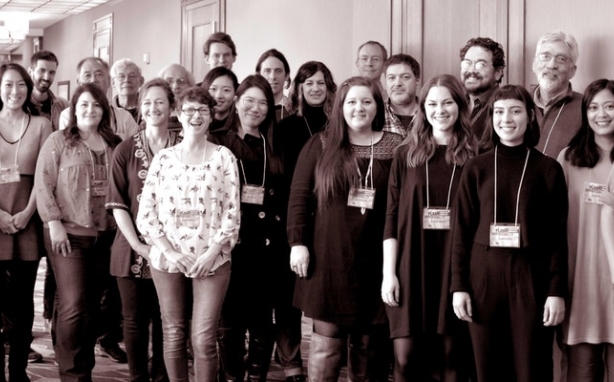 ---
The Weekend will take place at the beautiful Eaglewood Resort and Spa in Itasca, Illinois, located 26 miles from Chicago Loop and 8 miles from Woodfield Mall. It is accessible via public transportation, and a resort shuttle can pick up attendees at the Metra station in Itasca. Eaglewood's special discount rate is $99 per night for Design Inspiration Weekend attendees. Reserve your room early; the number of discounted rooms are limited and are available on a first come, first served basis.
Room rate $99 per room, per night, if reserved by January 3rd. All rooms are subject to availability.
Design Inspiration Weekend Committee:
Guy Villa Jr, Sharon Oiga, Alice Lee
Questions? Contact us at weekend@sta-chicago.org