About this Event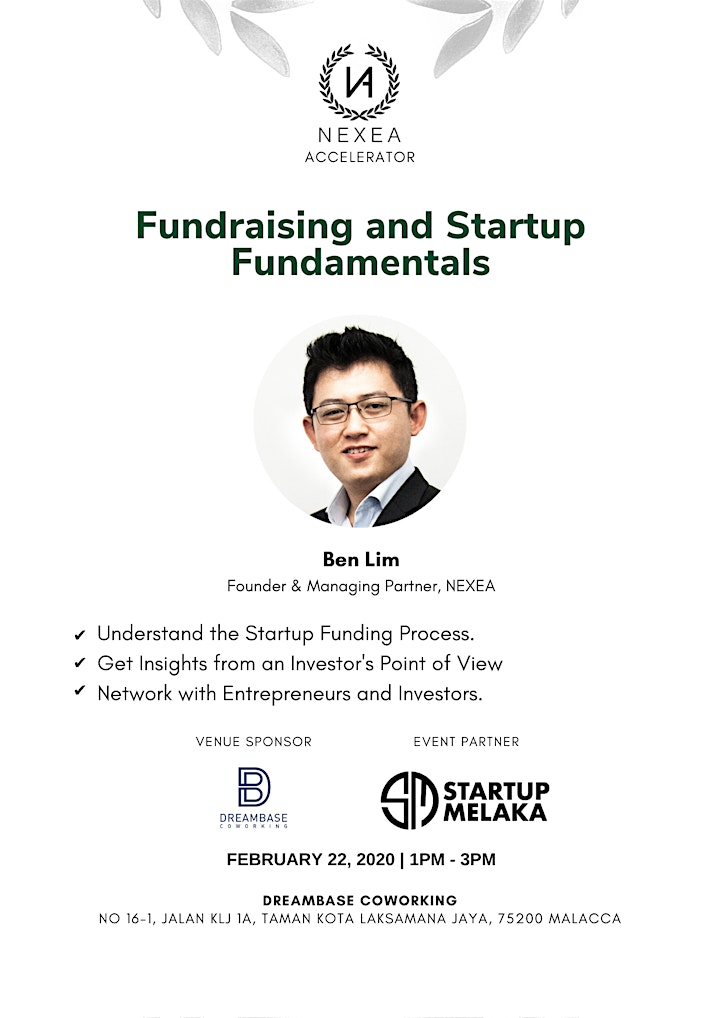 NEXEA Accelerator presents:
Accelerate Your Startup
What are some of the things that you must know before you raise funds for your startup? What does it take to attract investors in achieving your fundraising goals and objectives?What are some of the fundamentals that startup should look at to help improve their business?
Ben will share his insights on what happens in the whole process of fundraising and what are the core aspects of a startup. Get to know what are some of the mistakes and misconceptions of fundraising and how you can use these insights to build and refine your startup fundraising approach.
Agenda:
1.00 pm - 1.15 pm: Registration
1.15 pm - 1.30 pm: NEXEA Accelerator Introduction
1.30 pm - 2.30 pm: Fundraising and Startup Fundamentals + Q&A Session
2.30 pm - 3.00 pm: Networking/End
About NEXEA
NEXEA is a Startup Investment company that specialises in supporting and funding technology companies that have the potential to scale and grow. Their mission is to match the best startups with the best investors and corporates to grow into future technology giants.
NEXEA is known for its mentors who are successful ex-entrepreneurs, or C-levels who own or have sold (IPO, M&A) their businesses. The NEXEA Multi-Corporate Accelerator has a track record Accelerating Startup growth.
NEXEA has grown 35+ Startups with the help of 30+ Investors that also Mentor. Total revenues of Startups are now >100 million, with their top Startups growing 3X to 16X per year.
Every year, more than 150 Startups apply for the NEXEA Accelerator program, where the top 20 to go through a 2-month program, and the final top 5 startups get an additional 3 months, RM50,000 funding, and Corporate support
To learn more or apply: NEXEA's Accelerator Program
Presented by NEXEA Angels