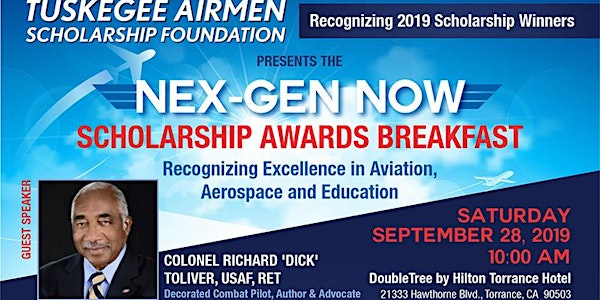 Nex-Gen Now Scholarship Awards Breakfast
When and where
Location
DoubleTree by Hilton Torrance 21333 Hawthorne Boulevard Torrance, CA 90503
Description
Join documented original Tuskegee Airmen as the Tuskegee Airmen Scholarship Foundation sponsors the Nex-Gen Now Scholarship Awards Breakfast on Saturday, September 28, 2019 at 10:00 at the DoubleTree Hotel.
Celebrate the life and legacy of (soon to be 100-year old) Tuskegee Airman Theodore "Ted" Lumpkin as he receives the Lifetime Achievement Award for his patriotic service during WWII as well as his post-war career as an employee of Los Angeles County. Joining Ted will be Tuskegee Airman Jerry Hodges who will receive the Vanguard Award for his courageous leadership as a patriotic and civilian, formerly heading the Tuskegee Airmen Scholarship Foundation.
Other honors include the Women of the Year Award, NASA's Dr. Aprille Ericsson, and the Pioneer Award to Captain Stephanie Johnson, Delta Airlines first black female captain.
The guest speaker will be decorated combat pilot, author and activist, Col. Richard "Dick" Toliver, USAF (Ret.) Dick Toliver evokes interest, attention, and admiration in a powerfully irresistible way. You will not want to leave your seat during his keynote. The story he tells about his life, how Tuskegee Airmen influenced him, and the importance of education will inspire.