Description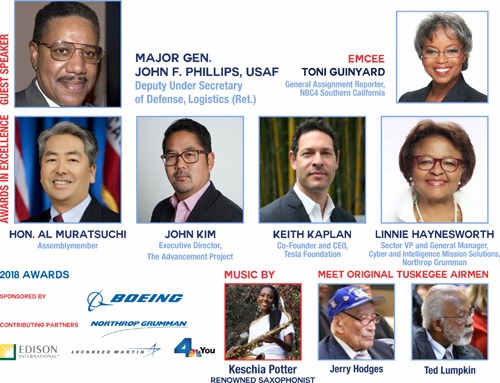 The Tuskegee Airmen Scholarship Foundation (TASF) will host its annual "Next-Gen Now" Scholarship Awards Breakfast. Proceeds from the event support TASF's scholarship fund serving financially and academically deserving high school students entering college. The "Nex-Gen Now" Scholarship Awards Breakfast honors the legacy of the Tuskegee Airmen and highlights the accomplishments of its 2018 scholarship recipients. Scholarship recipients are students planning careers in aviation, aerospace, STEM (science, engineering and math) as well as other disciplines.
Our guest speaker will be Major General John Phillips, USAF, and former Deputy Under Secretary of Defense Logistics (Ret.). Honorees include the honorable Al Muratsuchi, State of California Assemblymember; John Kim, Executive Director, The Advancement Project; Keith Kaplan, Co-Founder and CEO, Tesla Foundation and Linnie Haynesworth, Sector Vice President and General Manager, Cyber and Intelligence Mission Solutions, Northrop Grumman.
The event will also be attended by surviving Tuskegee Airmen who launched black military aviation in America, leading corporate decision-makers, government representatives, students from various STEM high schools, parents and the public.
Music by Renowned Saxophonist Keschia Potter
Organizer of "Nex-Gen Now" Scholarship Awards Breakfast
Ward AME Church celebrates 117 years of spirit-filled worshp and service to the community. The Young, Gifted, and Blessed Scholarship Concert, is one of several events to celebrate this monumental accomplishment.  Ward African Methodist Episcopal Church, founded in 1902, began in the home of two lay persons in ministry – Mr. and Mrs. John Pryor – in South Central Los Angeles with a small number of faithful Christians. The members' enthusiasm for "doing as God had ordained" brought about an increase in what became first known as The Los Angeles Mission. 
On March 13, 2015, Ward proudly welcomed The Reverend John Edward Cager, III, First Lady, Kinette Cager and family.   Rev. Cager is a skillful administrator, a dynamic preacher, with a Pastor's heart. Pastor Cager has reconnected Ward to it's community based outreach roots, coupling Ward with Rev. Rick Reed's 'First To Serve' Rehabilitation program and other meaningful ministries. Ward is looking forward to a long, loving and spirit-filled relationship as we move forward in service to our Almighty God, the ministry of Jesus Christ, and the mission of the African Methodist Episcopal Church.
Rev. Cager and First Lady Kinette lead by example and are truly indicative of Ward's mantra:  "Ward Is On The Way."