Description
Join us as we welcome Carmel Pine Cone owner and editor Paul Miller to the Miller LAB for a talk he calls:
Newspapers: The Internet is Still Here, But So Are We!
5:00 PM Wine and some light snacks
5:30 PM Paul Miller
6:30 PM Q&A

(Prefer to RSVP for this event over the phone? Just call 831-667-2574!!)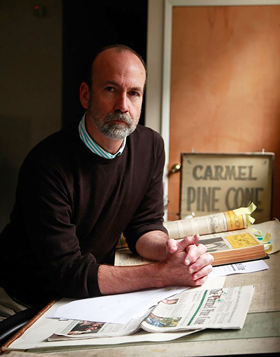 A talk about competing and surviving during the Google/Facebook/Huffington Post/Drudge era and the Fake News wars.
The Internet behemoths may dominate the news business today in a way that William Randolph Hearst and Edward R. Murrow never even dreamed of, leading to the nationwide collapse of the old-fashioned newspaper industry, but Paul Miller, publisher of the Carmel Pine Cone, says it didn't have to be that way. In an informative and entertaining talk, Miller, a 40-year veteran of television and print journalism, will discuss the state of news today, and explain how The Pine Cone has managed to thrive and grow in a very competitive environment. Miller will also discuss his days as a globe-trotting news producer for NBC and CBS, and engage in a free-wheeling discussion about the top local news stories of today.
WELCOME!
BIO HIGHLIGHTS:

Paul Miller, publisher of The Camel Pine Cone...
...his first "real" job after studying political science at the University of Chicago was copy boy for CBS News at its headquarters on Manhattan's West 57th Street, working for broadcasting legends such as Walter Cronkite, Dan Rather and Charles Osgood.
...Miller played a role in arranging Cronkite's groundbreaking 1977 interviews with Egyptian President Anwar Sadat and Israeli Prime Minister Menahem Begin.
He was also deeply involved in coverage of the March 1977 collision of two 747s in the Canary Islands (still the worst commercial aviation accident in history), the 444-day captivity of Americans in Tehran, and many other important international stories.
...he was the NBC News bureau chief in Israel. During those tumultuous years (1981-1985), he had on-the-scene responsibility for NBC's coverage of the Israeli withdrawal from the Sinai Peninsula, the war in Lebanon, the U.S. Marines' disastrous peacekeeping mission in Beirut, the invention of the suicide bomb as a terrorist weapon, and Israel's role in the massacres at the Sabra and Chatilla refugee camps.
...was a Los Angeles-based producer for NBC Nightly News with Tom Brokaw, traveling extensively in California, the Western United States, Hawaii, and the Far East for that broadcast.
During the 1988 Summer Olympics in Seoul, Korea, Miller's work earned him two national Emmys, including "Best Sports Journalism" and "Best Live TV Production."
In 1997, he bought The Carmel Pine Cone, a weekly newspaper which has been published since 1915. Under his leadership, the newspaper has returned to its small-town roots while specializing in innovative news stories of vital interest to the people of Carmel and the Monterey Peninsula.
In April 1998, Miller began a series of investigative reports into California's lax voting laws. One of these reports, "Voter Fraud: Simple as 1, 2, 3," involved registering a fictitious person to vote. That story was featured on the CBS News program, "60 Minutes," on November 1, 1998. The series also won a First Place award for Public Service from the California Newspaper Publishers Association, and helped motivate Congress to tighten voter registration requirements in 2003.
Miller has also been one of California's foremost reporters on the struggle between property rights and environmental regulations, the machinations of the California Coastal Commission, and on the epidemic of ADA lawsuits against small businesses.


We suggest dinner after the talk at one of the fine restaurants at the Barnyard: Allegro, The Sur, Robata's, Lugano's ((831) 626-3779), Aahba.
Paul Miller full bio is here.
Photo below with Shimon Peres.