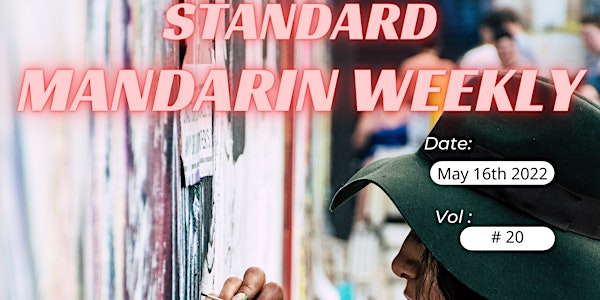 Newspaper Club for Mandarin Learners
With Standard Mandarin Weekly, we'll practice reading in simple Mandarin Chinese with the newest and coolest content.
About this event
Standard Mandarin Weekly is a weekly publication in Mandarin Chinese, designed for Mandarin learners who want to not only practice the language but also learn about news, culture, life, science, food, etc.
These articles are written by language teachers, bloggers, and veterans writers. They are HSK graded and perfect for leisure reading or comprehensive reading practices. Updated every week, the publication has been well received by teachers and students around the world.
To create an environment to apply what they read in real life, discuss featured topics, and communicate in simple Mandarin Chinese, we have launched a Newspaper Club for readers.
The Newspaper Club is also open to any Mandarin Chinese learners who would like to practice reading, listening, and speaking. At the beginning of each session, we'll send the articles, so non-subscribers can read them.
Each session is 30 minutes and will be hosted through Zoom every other Thursday from 7 pm to 7:30 pm (PST).
If you have any questions please email: mandarinweekly@gmail.com