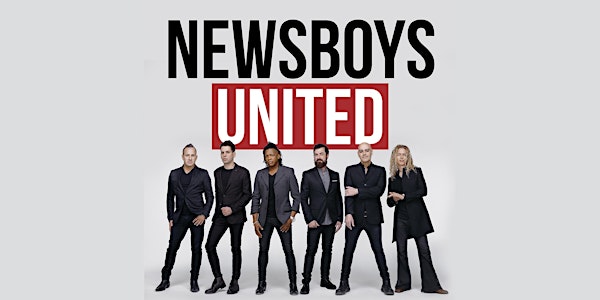 NEWSBOYS UNITED GREATNESS OF OUR GOD FALL TOUR
Real Life Amphitheater/Texas Arms of Love and LiveShowEvents
Performers
The Newsboys, Peter Furler, Phil Joel, Kevin Max, Ryan Stevenson, Adam Agee
Location
Real Life Ampitheatre
16765 Lookout Road
Selma, TX 78154
The Newsboys United Tour featuring The Newsboys w/ Peter Furler, Phil Joel. Featuring Ryan Stevenson and special guest:Kevin Max of dcTalk
About this event
Come for an incredible Fall music event with The Newsboys United, Greatness of our God Tour. This event takes place at Real Life Ampitheater F/K/A Verizon Wireless Amp in Selma Texas. Come celebrate this event as we bring back to life music events under the big Texas sky. We will open the gates at 2:30 pm for our pre-show music that day. Plenty of great food and drink choices from vendors. Be checking our websites as well as www.reallifeamp.com or www.txaolevents.net.
All purchases are final and there are no refunds unless event is cancelled by event organizers.
Add On Tickets (Gold and Paltinum) ARE NOT concert tickets. You must purchase a seated ticket to come to the show. You will not be allowed into the event with just a Add On.
AMP PREMIUM PARKING PASS $15 (ALL OTHER PARKING FREE).
ADA Wheelchair Seats must be purchased on the ticket map directly. Call us at 210-468-5592 if you experience any issues.
CONTACT US ABOUT SPONSORSHIP & VENDOR OPPORTUNITIES. EMAIL: info@liveshowevents.net
NEWSBOYS UNITED RETURN BY POPULAR DEMAND TOHEADLINE 'GREATNESS OF OUR GOD' FALL TOUR:
NASHVILLE, Tenn.—On the heels of thehistory-making #1 album, United, Christianmusic supergroup Newsboys United willreturn to the road this fall for one of the genre's most anticipated tours, it wasannounced today. By popular demand, the"Greatness Of Our God" Tour will once againbring together former members Peter Furlerand Phil Joel with Newsboys' Michael Tait,Duncan Phillips, Jeff Frankenstein and JodyDavis for an autumn outing bound for morethan 30 cities around the country.Taking the stage to perform suchnew United fan favorites as "Greatness Of Our God" and "Symphony," and many others.