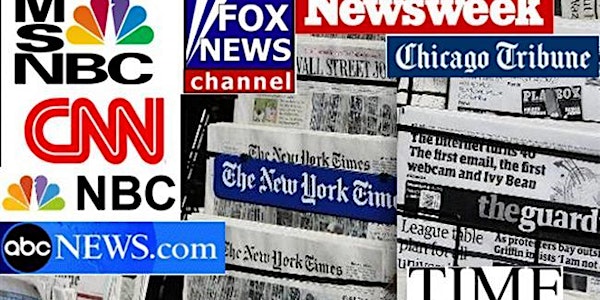 News Literacy: Navigating the Press Under the Trump Administration
When and where
Location
205 Hudson Street 2nd floor - HAAG Room New York, NY 10013
Description
The Trump administration is generating a huge volume of news. Feel like you're drowning in Trump headlines? Need guidance on how to identify credible news sources? Want to stay informed without losing your mind? Join us for a talk and panel on Navigating the Press Under the Trump Administration.
During her presentation, recovering journalist Kahliah Laney will provide tips on how to be an empowered and savvy news consumer, how to hold the media accountable (yes, you can!), and the lowdown on how the news is made.
This will be followed by a panel discussion with experts in the industry about the critical role of journalism in democracy and what if any responsibilities the media has to the public particularly given that so many platforms are beholden to shareholders of the companies they're owned by. This will include a Q & A.
Alberto Riva, Milanese transplanted to New York, began his career in journalism as a news agency reporter in Italy, later moving to Atlanta to work for CNN. He also worked for Bloomberg News, and helped lead America24, the US-based digital operation of Italy's biggest business newspaper, Il Sole 24 Ore. He was most recently the managing editor of Vice News in Brooklyn, where he lives.
Judith Watson had been associate dean of the CUNY Graduate School of Journalism from its inception in 2006 until 2015 and now is on faculty at the school. She started at CUNY as special assistant to former Chancellor Matthew Goldstein overseeing new projects for the University. Prior to that, she spent 15 years at United Press International, serving as New York bureau chief, New York State editor and Albany capitol bureau chief. In a 25-year journalism career, Watson has worked as a columnist, reporter, and print and broadcast editor.
Dara Sharif is an experienced news editor and reporter, having edited or written for news agencies including The Associated Press, the New York Daily News and New York Post, as well as for digital media including TheRoot.com. For almost a decade, she also headed a weekly newsmagazine targeted to the education market, and has also taught copy editing and issues involving strong, objective writing and avoiding the pitfalls of libel at New York University. Since earning her master's degree in journalism from the CUNY Graduate School of Journalism, she has been running her own editorial services company, DNS Media Group Inc., which offers everything from media consulting services to book editing to copy editing via a variety of content management system platforms. Follow her on Twitter @dnsmediagroup.