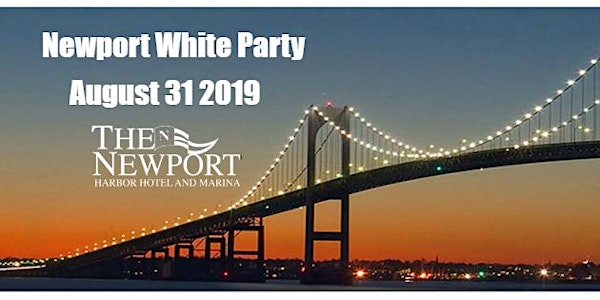 Newport White Party 2019
When and where
Location
The Newport Harbor Hotel and Marina 49 America's Cup Avenue Newport, RI 02840
Description
The White Party had its humble beginnings in Newport on the 2nd floor of a Dixon Street home. A group of fun-loving Boston/RI/CT/NY Summer Newporter's decided to spice up the end of Summer 2011 with a party that would bring out friends in their finest white attire, before packing it away for the season.
The feedback from the inaugural event motivated the organizers to turn it into an annual affair. By 2013 they decided to step it up and do a Sunset Harbor Cruise with 100 plus friends. It was such a success they chose to turn the profits over to local charities including Wounded Warrior. Then when the tragic events that surrounded the 2013 Boston Marathon happened, friend and party regular Heather Abbott lost part of her leg in the attack. Her push to help assist fellow amputees led the party organizers, Adam Manoli and WPRI Sports Reporter JP Smollins, to donate a portion of proceeds to her foundation.
Attendance grew to 200+ with a waiting list. After celebrating the event 2014/ 2015 at the Viking Rooftop the party had to move to a larger venue, the newly renovated Newport Harbor Hotel & Marina. Set right on the Newport Harbor, this idyllic backdrop boasted a beautiful, breathtaking sunset and a night to remember.
As the event has evolved over the years so has its organizers passion to give back to the community. Last year another in addition to the Heather Abbott Foundation a portion of proceeds went to "Boston Strong New York Tough" in memory of Ken Schneid for families fighting cancer. During one of Ken's cancer treatments at Tufts in Boston, he saw a family's attempt to budget all of the unexpected costs and the sacrifices that have to be made. "Will mom save money on daycare if she just quits her job? How much is it to park the car daily at the hospital. Who helps with the kids during chemo?" That was the moment Ken decided to sponsor families by providing "incidental" funds in which 100% goes straight to the family. Ken has since passed but his wife Paula is carrying the torch for her beloved husband.

2019 Proceeds this year will go towards The Heather Abbott Foundation and Boston Strong New York Tough and The Dana Farber Multiple Myeloma Department in Memoriam to Michael Brody a long-time sponsor of our party.

http://thenewportblast.com/everyone-blast-newports-white-party-video/
What is included in your ticket price?

PASSED Hors D'oeuvres 6 pm to 7 pm
-Menu:
Lobster Blini(lobster salad on a buckwheat blini)
Tuna Tartar: Served on house chip, avocado puree, and cilantro
Tomato Canapes: Crostini, heirloom tomato, Tomato jam and opal basil
Buffet:
Salmon:
Watercress, and horseradish cream
Chicken:
Chicken breast & Preserved Meyer lemon Beurre Fondue
Summer Succotash:
Roasted okra, Sweet corn, Tomatoes, pearl onion and peas.
Farro Risotto:
Coconut, and vadouvan cream
(Contains Gluten)
An assortment of mini desserts
Open Bar and Entertainment overlooking the Newport Harbor.
Entertainment: Club J
Amazing Newport Friends and one of the most beautiful sunsets on the East Coast.