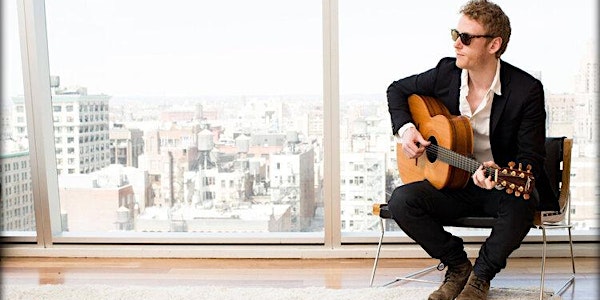 Newport Live Presents: Teddy Thompson - acoustic!
Newport Live Presents Teddy Thompson at LaFarge Arts Center in Newport, Friday, February 24th, 7:30 PM
When and where
Location
Newport Live 73 Pelham Street Newport, RI 02840
About this event
Teddy Thompson was born in a London Sufi commune to folk rock musicians Richard and Linda Thompson, both major musical figures in the English folk rock scene from the 1960s onward. He formed a band at the age of 18. He moved to Los Angeles to pursue his music career, which included work as a singer and guitar player in his father Richard's band during the 1990s. He appears on at least three Richard Thompson Band recordings from that time: You? Me? Us?, the live album Celtschmerz (1998) and Mock Tudor, as well as singing a duet on the track "Persuasion", which appeared on Richard's best-of compilation Action Packed .He can be seen performing in his father's band on a number of internet videos from as early as 1993, including an appearance on Jools Holland's show. He coaxed his mother out of retirement and co-produced her first album in 17 years, titled Fashionably Late.
In addition to Richard and Linda Thompson, He has also played on or with Rosanne Cash's Rules of Travel – "Three Steps Down", Kate & Anna McGarrigle's The McGarrigle Christmas Hour , Shawn Colvin's These Four Walls – "Let it Slide", Rufus Wainwright's Release the Stars – "Tiergarten", Marianne Faithfull's Easy Come, Easy Go – "How Many Worlds" and on soundtracks, such as "Psycho", Shining Bright: Songs Of Lal & Mike Waterson, various artists – joint vocals (with Linda Thompson) on Evona Darling, Brokeback Mountain – "I Don't Want to Say Goodbye", Leonard Cohen: I'm Your Man – "The Future", "Tonight Will Be Fine", and Sing Me the Songs: Celebrating the Works of Kate McGarrigle – "Saratoga Summer Song".
American Songwriter states: "Teddy Thompson Combines Broken Hearts and Classic Pop"
"Here's the thing," Teddy Thompson sings frankly on his new album, "you don't love me anymore. I can tell you've got one foot out the door." From its opening track Thompson's new album Heartbreaker Please (out May 29th on Thirty Tigers) reckons with the breakdown of love with a wistful levity as satisfying as it is devastatingly honest. The album is drawn from the demise of a real-life relationship set against the backdrop of New York City, the place he has called home for the better part of two decades. A member of the British musical dynasty first helmed by his legendary parents, Linda and Richard Thompson, he left London for the States at 18, settling in New York five years later. "I took a summer vacation that never ended," he says. "In retrospect, I was trying to reinvent myself. It was easier to leave it all behind, go somewhere new and declare myself an artist. And you can actually reinvent yourself in America; step off the plane, say 'my name is Teddy Thompson, I'm a musician!'." Twenty years later, Heartbreaker Please finds Teddy Thompson perfectly himself, a commanding artist at the top of his craft.
"Who do I sound like? I think I sound like myself!," Thompson says, "There's a strong element of British folky in me, it's in the blood, and I heard the wonderful music of my parents around me as a young child. Then there was the 1950's American pop and country that I fell in love with, plus the 80's pop music that was in the charts at the time." From a young age, Sam Cooke (with The Soul Stirers!), Hank Williams, Chuck Berry, and the Everly Brothers made up the bulk of his listening, along with select contemporary tunes heard on Top of The Pops. A-ha, Culture Club, Wham!" As a teenager I couldn't talk to my friends about 50's rock n roll! I was not cool enough to be that different. I'd say Crowded House was the first contemporary band I really found that I liked, that was socially acceptable." he says. "Today? I like to think my taste in music is catholic, I listen to whatever catches my ear, I don't care about genre. There's only two types of music, good and bad." After releasing his self-titled debut in 2000, Thompson went on tour as part of Roseanne Cash's band. Since then he's released five albums, collaborated with good friends Martha and Rufus Wainwright, contributed to numerous tribute projects, and produced albums for Americana singer-songwriters Allison Moorer and Shelby Lynn, Dori Freeman, Roseanne Reid as well as his mother, Linda Thompson.
On Heartbreaker Please Thompson incorporates elements of 60's doo wop, "Record Player" and 80's synth sounds on the epic "No Idea" but his first musical love is still rock n' roll, country and pop. "I'm completely enamored with the three-minute pop song. Maybe it's conditioning if you hear enough of it, but the brevity of those songs, I always thought that was ideal, trim the fat." says Thompson. "Those songs are from a time when the song itself was important and would live on. If it was great, people would cover it. So I still think that way, write a great song first! I try to be succinct and witty, but also cut to the heart in a matter of two or three minutes. I may never write a song as good as (Chuck Berry's) 'Maybelline' or Cathy's Clown (the Everly Brothers), but those are the touchstones for me."
The songs on Heartbreaker Please are undergirded by references to someone else doing the heartbreaking, which is a departure for Thompson. "I'm usually the one who does the heartbreaking! A defense mechanism of course, but all of a sudden I was the one on the back foot.I was the "plus 1", and I admit, I didn't deal with it very well. But also, don't date actors!" The relationship ended as Thompson was finishing writing the songs that would become Heartbreaker Please. "I tend to write sad songs, slow songs - it's what comes naturally," says Thompson, "So I tried to make an effort here to set some of the misery to a nice beat! Let the listener bop their heads while they weep." The effect pays dividends on Heartbreaker Please. There are the beautiful ballads that Thompson has become known for, the string layden "Take Me Away" and the stunning "Brand New" but there's also the toe tapping 60's vibe of "Record Player" and the Eddie Cochran-esque "It's Not Easy". There may be sadness but there's also hope, humor and even, a beat.